Fried liver with tomatoes and cucumber
Cooking time: 15 min. / 5 min.Difficulty: easy
Vietnamese cuisine is full of recipes with inners. I love this recipe, as it is very fast, full of fresh herbs and it is delicious.
Process
Cut cucumbers and tomatoes into wedges. Slice liver very thin. Put 1 tablespoon of oil into a large pan, heat on a high flame and fry tomatoes and cucumber 30 seconds.
Mix liver with crushed garlic, fish sauce, glutamate and sugar and stir the mix into the pan. Fry one more minute. And then add spring onions cut on qarters. In about 20 seconds add fresh coriander and parsley leaves, heat just few seconds, put pepper on. Mix sauce ingredients.
Serve with rice and a sauce on the side.
To buy a fish sauce US, UK, Europe
, To buy a rice cooker US, UK, Europe
, To buy a wok US, UK, Europe
, To buy chopsticks US, UK, Europe
Video recipe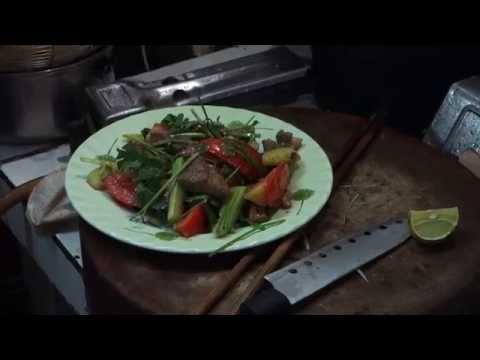 Video contains subtitles.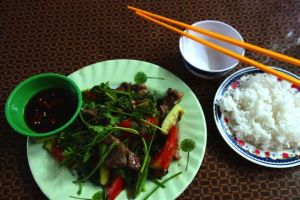 Ingredients
For 4 portions:
0,5 kg pork liver
4 tomatoes
1 cucumber
6 spring onions
4 tsp fish sauce
4 gloves crushed garlic
2 tsp sugar
1/2 tsp glutamate (optional)
fresh coriander leaves
fresh parsley leaves
pinch of black pepper
For dip:
4 tbs fish sauce
2 tbs soya sauce
1 tsp sugar
1 fresh red chily finely chopped
Sice dish:
Authentic tools needed:
Comments