Summer squid salad
Cooking time: 15 min. / 4 min.Difficulty: easy
We were riding motorbike on the beach, got a fresh squid from fishermen, just from the boat, asked one nice lady by the road to make it for us. And she made such an amazing and refreshing salad. Perfect food for summer heats.
Process
As it takes nerly half an hour to prepare, it doesnt make a sense to make just one table spoon. So the leftover you can store in the fridge for a few days and use for various kind of meet or other dishes. First we caramelize onions. Heat oil on a low heat. Add the onions and a salt and cook very slowly for 15-20 minutes. Stir from time to time. Keep the heat low all the time. When onions get a golden colour, add brown sugar and balsamic. Cook 5-10 more minutes, all the time on a very low heat. Stir from time to time. When ready, they should be sticky and caramelized.
We gut the squid (check the video), get rid of skin, rinse and cut into stropes. We put it on a steamer basket and steam for 2-4 minutes.
In the meantime we slice cucumbers, tomatoes and plack leaves from the herbs. We mix dip ingredients, where we dip each bite of squid.
We decorate plate with cucumbers and tomatoes, put steamed squid on it and cover with herb leaves.
We serve with roasted rice paper or rice.
To buy a bamboo steamer US, UK, Europe
, To buy rice paper US, UK, Europe
, To buy Nuoc cham sauce US, To buy chopsticks US, UK, Europe
Video recipe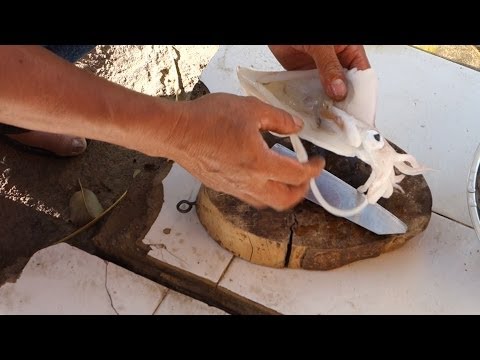 Video contains subtitles.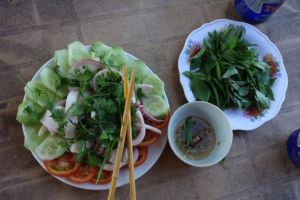 Ingredients
For 3 portions:
For dip:
4 tbs fish sauce
1 tbs caramelized onions
For caramelized onions:
3 brown or red onions sliced
2 tbs brown sugar
1-2 tbs balsamic vinegar
2 tbs oil
pinch of salt
Side dish:
Authentic tools needed:
bamboo steamer
rice cooker
Comments