Banh dap - Crushed rice cracker with anchovy sauce
Cooking time: 20 min. / 10 min.Difficulty: easy
I was sitting in a restaurant by the river in Hoi An and all of a sudden I could hear a blow from the other table. I had a look this direction and could see a guy hitting heap of some pancakes with his open palm, then tearing it and dipping in some sauce. So I ordered it too. They were rice crackers connected together with layers of steamed rice pancakes. So simple and so tasty. Of course thanks to the great sauce too :)
Process
Mix rice pancakes powder with water and salt to taste. Mix well, that there are no lumps and set aside to rest at least 30 minutes, better overnight.
Meanwhile prepare the dip. Mix all ingredients for sauce. Anchovy sauce is sometimes quite salty, so add it in the end and start with 2 table spoons. If necessary, add more.
Traditional Vietnamese way of making rice pancakes is steaming on a special steamer with a tight clothes on top. In our conditions it is possible to make them like regular pancakes, to fry them on a pan, with just a super tiny bit of oil. Fry them covered on a small heat about 1 minute. Do not turn them. They should stay white and soft.
Serve them like a layers of rice crackers and rice pancakes one by one. The first and the last one is always rice cracker. When on the table, hit the heap with open palm to connect the layers. Then tear them and dip into anchovy sauce, with fried onions added just before serving.
The video below is NOT a complete recipe. It is filmed on the street in Vietnam, just that you can see the authentic view. Banh dap starts at time 0:47.
To buy tapioca starch/flour US, UK, Europe
, To buy rice flour US, UK, Europe
, To buy rice paper US, UK, Europe
Video recipe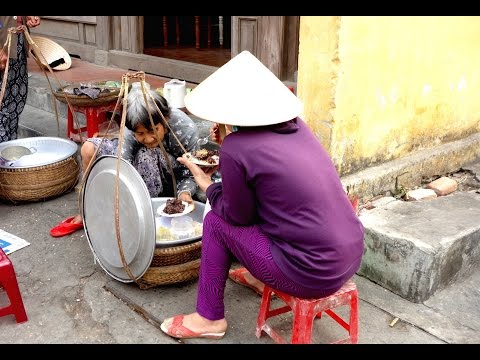 Video contains subtitles.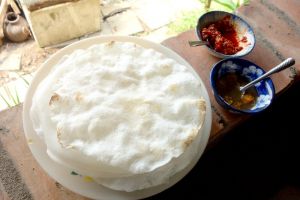 Ingredients
For 4 portions:
For steamed rice pancakes
200g rice pancakes powder banh cuon (or rice and tapioca starch 50:50)
0,5l water
pinch of salt
For dipping sauce:
Comments