Sate ayam - Chicken satay with peanut sauce
Cooking time: 20 min. / 10 min.Difficulty: easy
This is Indonesian classic. This is literally a meal, that you do not have to go for, it simply "comes" to you itself :) In other words, it is a very common meal sold from "meals on wheels" restaurants. On motorbikes (yes, ardent charcoal included) or manually driven.
Process
For marinade - crush garlic, kaffir lime leaves and ginger in a mortar or in a blender. Mix with kecap manis sauce, oil and lime juice.
Cut chicken on small pieces, dip into marinade leave it there at least 30 minutes or better overnight.
Put marinated meat on a skewer and put on a grill. Grill from all sides.
In between prepare peanut sauce. Crush garlic, shallots and chilies in mortar. Fry shortly on oil on small heat, add palm sugar, tamarind and a bit of water. After 2-3 minutes add peanuts. When the sauce gets thicker, stir in kecap manis and lime juice and remove from fire. Add pinch of salt.
Serve with remained sauce and sticky rice.
To buy palm sugar US, UK, Europe
, To buy tamarind US, UK, Europe
, To buy a kecap manis sauce - US, UK, Europe
, To buy kaffir lime leaves US, UK, Europe
, To buy Indonesian mortar cobek US, To buy a rice cooker US, UK, Europe
, To buy a wok US, UK, Europe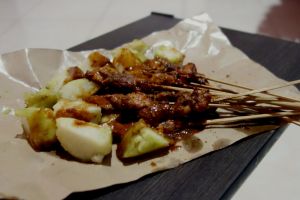 Ingredients
For 4 portions:
400 g mix of chicken breasts and thighs
wooden skewers
Marinade:
Peanut sauce:
Side dish:
lontong = rice cake cooked in a banana leaf or regular steamed rice
Authentic tools needed:
Comments