Lontong - rice cakes cooked in a banana leaf
Cooking time: 10 min. / 1 hod. 20 min.Difficulty: easy
This form of rice preparation has two advantages. First rice gets great aroma from banana leaf and secondly you have a perfect rice take away packaging. In Indonesia you can get this kind of rice as a side dish when eating on the street "restaurants" on wheels.
Process
Create a cone from banana leaf, fill it with rice the way, that it will be full from about 3/5 cone volume after closing. Close cone with a piece of wooden skewer.
Put rice wraps into a pot with cold water and bring to a boil. Wraps have to be submerged all the time, so add more water if necesarry during cooking. Cook much longer than a common rice. Usually more than one hour. That is why it is better to open one wrap after about 45 minutes and try it.
Serve in a room temperature, unwrapped and sliced, with any kind of Indonesian dishes, where you would use common rice. In Indonesia you can get it usually on the streets with gado gado or chicken or pork satay or other dishes with some sauce.
Be ready sticky rice is quite filling, as it is compressed.
To buy banana leaves US, UK, Europe
Video recipe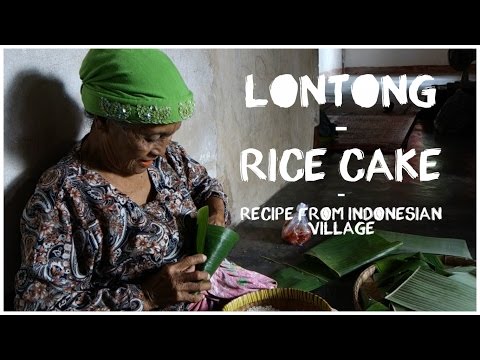 Video contains subtitles.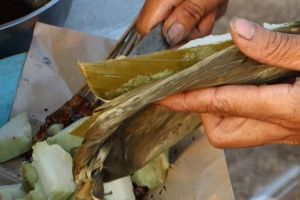 Ingredients
For 4 portions:
rice you usually use
banana leaves cut on rectangular shape (you can use a plastic bag instead with holes made with fork, but the important banana leaf aroma will be missing ;) )
wooden skewers
Comments