Gado gado - Mung sprouts with peanut sauce
Cooking time: 15 min. / 10 min.Difficulty: easy
In Lombok in Indonesia, they simply love cooking with mung sprouts and water spinach. Really, they are part of at least half of traditional Lombok specials. This time it is gado gado with peanut sauce. You can find so many flavors and recipes of peanut sauce all around Indonesia. The great thing about this one is, that it is very simple, fast, with just a few ingredients used and still soooo delicious :)
Process
Clean mung sprouts, remove remaining skins and put them into a plastic bag. Clean water spinach and remove old, bottom parts of stalks.
Bring water to a boil and put in the bag with mung sprouts (this is Indonesian style, of course you can put them on steamer :) ). Cook them 1-2 minutes and drain. Salt the same water, put in water spinach and cook 2 minutes. Then take them out, put into cold water and drain.
Take peanuts. If they are unroasted, fry them shortly and drain, if they are roasted, skip frying (they usually have unroasted ones in Indonesia).
Crush chilies with garlic and salt into a paste in a mortar or in a blender. Then add peanuts and continue crushing. Add water bit by bit, sugar and crush into a smooth paste.
Serve it with lontong (rice cooked in a banana leaf), or you can use steamed rice too. Then tear water spinach on tiny strings, cut on smaller pieces and lay on rice. Cover it with mung sprouts and the super yummy peanut sauce.
To buy Indonesian mortar cobek US, To buy a rice cooker US, UK, Europe
, To buy a wok US, UK, Europe
Video recipe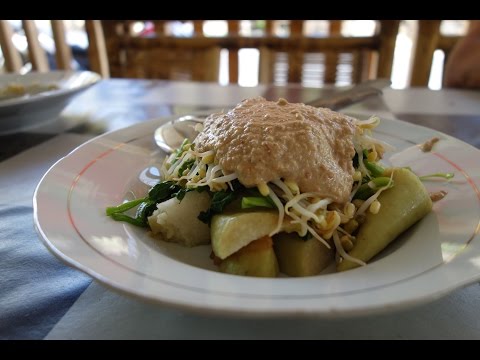 Video contains subtitles.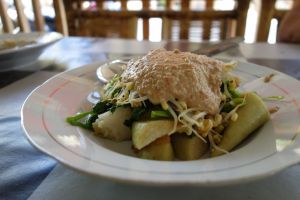 Ingredients
For 4 portions:
Side dish:
lontong = rice cake cooked in a banana leaf or regular steamed rice
Authentic tools needed:
Comments