Dhal - Lentils Kerala style
Cooking time: 10 min. / 15 min.Difficulty: easy
The most frequented dish, which you will find in hundreds of variants allover India. This recipe is from Kerala, South India, where fresh coconut is a very common ingredient. Dhal is not an exception.
Process
If you do not like spicy food, do not chop green chilies, use whole chilies and remove them from dhal after cooking. Use less chili flakes or not at all. If you love it spicy, chop green chilies and use chili flakes as you like.
Rinse red lentils, put into a pot with water. The ratio of water and lentils should be 2:1. Add salt, onion, garlic, green chilies, coconut and turmeric. Bring to a boil and cook 15 minutes on a mild heat.
In the meantime heat pan with oil, add mustard seeds. As soon as they start popping up, add chili flakes and white lentils. As soon as white lentils get golden brown, add curry leaves and stirfry 1 minute.
Mix with lentils and serve with rice or any kind of Indian bread, dosha or apam ......
To buy white lentils urad dal US, UK, Europe, To buy red lentils US, UK, Europe, To buy curry leaves US, UK, Europe, To buy a coconut scraper US, UK, Europe, To buy Indian pan kadai US, UK, Europe, To buy a rice cooker US, UK, Europe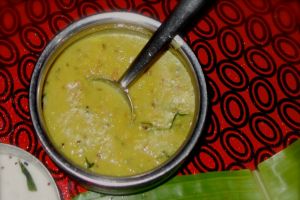 Ingredients
For 4 portions:
200g red lentils
1 red onion finely chopped
2-3 cloves garlic crushed
2-3 green chilies
1 and 1/2 cup fresh grated coconut
salt
1/2 tsp turmeric
1-2 tbs oil
1/2 tsp black mustard seeds
1 tsp chili flakes
1-2 tsp white lentils - urad dhal (optional)
15 curry leaves
Side dish:
Authentic tools needed:
coconut scraper
kadai pan
rice cooker
Comments