Dosa - Rice pancakes
Cooking time: 30 min. / 3 min.Difficulty: easy
Indian cuisine is rich for all kinds of flat breads and crepes made of wheat or rice flour. One of them is dosa, which you can find allover India in many variations - which differ in size, thickness, filling / topping ..... They have one thing in common though and it is the batter. The base are blended rice and white lentils, which ferment overnight. This time is not included in the time of preparation mentioned above :)
Process
Rinse rice and lentils separately in LUKEWARM water and drain. Soak both kinds of rice and lentils for 4-6 hour in LUKEWARM water to make them softer. Rice and lentils SEPARATELY again.
Blend them separately in a powerful blender into a smooth, thick but runny butter. Butter should be little bit thicker than for instance for pancakes. Add water bit by bit if necessary.
Put butter from each ingredient into 2 dishes and cover. But do not cover them tight. Let them ferment over night in room temperature. Air and water temperature and air access is the key success factor for starting fermentation process. Common room temperature in sout of India is usually above 25°C. So if your room is cool, put it on central heating for instance. Even handling rice and lentils with hands should help, as the warmth from your hands helps starting the fermentation process too.
Mix content of both dishes in the morning and salt to taste. Do not salt in the evening before fermentation.
Heat up pan, just very slightly coated with oil, create something like a pancake, just smaller and thicker. Fry from both sides.
Serve with any kind of Indian curry or just springle with sugar, which Indian kids love very much :)
If you use fenugreek, approach it the same way like lentils and rice. I saw mixing all ingredients (excluding salt!) before fermentation too. It works, but if you keep them all separately, it is even better. Regarding rate rice x lentils - if you want softer crepes, add more lentils, if more crunchy, add more rice.
To buy white lentils urad dal US, UK, Europe
, To buy fenugreek US, UK, Europe
, To buy pan for dosa US, UK, Europe
Video recipe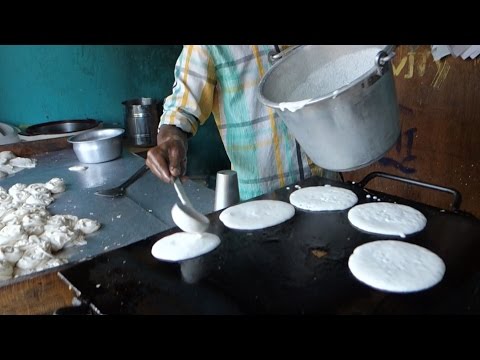 Video contains subtitles.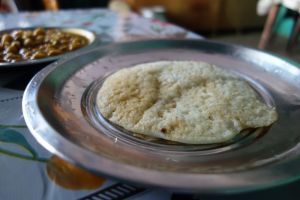 Ingredients
For 8-10 pieces:
full cup of regular short grain white rice
full cup of long grain rice
3/5 cup of white lentils (urad dal)
water
salt
1/2 tsp fenugreek seeds for nicer color (optional)
Authentic tools needed:
Comments