Dhal fry - Red lentils Northern India style
Cooking time: 10 min. / 20 min.Difficulty: easy
I love dhal. Probably all variations I have ever tried. (Not only) in every state of India it is done different way. They use ingredients, which appear naturally in the region. In the South they would hardly do without curry leaves and a coconut milk. In the North it is the very opposite way. And this is where the recipe I learnt from two cool local guys in a hostel is coming from.
Process
Rinse lentils and cook in water till soft. Amount of the water should be cca 3x higher than lentils volume. They used pressure cooker pretty often in India, which made the process much faster. In a regular pot you will cook it 10-20 mins according to the size of the lentils.
Heat up ghee in a kadai pan, add cumin seeds. As soon as they start releasing their aroma, add garlic and chili peppers. In 30 secs add onion. In 1 min add turmeric. Stir all the time. In another 1 min add tomato, chili powder and salt to taste. Saute 10 minutes.
Stir in red lentils. Add some water if necessary to reach consistency you can see on the photo.
Simmer 3 more minutes and serve with rice or any kind of Indian bread, dosha or apam ......
To buy red lentils US, UK, Europe
, To buy ghee US, UK, Europe, To buy Indian pan kadai US, UK, Europe
, To buy a pressure cooker US, UK, Europe, To buy a rice cooker US, UK, Europe
Video recipe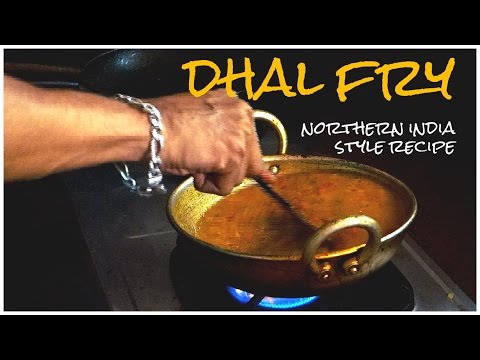 Video contains subtitles.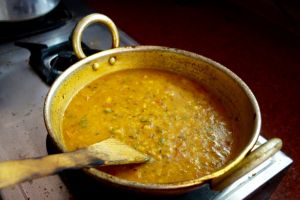 Ingredients
For 4 portions:
200g red lentils
1 red onion finely chopped
2-3 cloves garlic finely chopped
2-3 green chilies finely chopped
1 tomato finely chopped
1-1,5 tsp salt
1 tsp turmeric
1 tbs ghee
2 tsp cumin seeds
1-2 tsp chili powder
Side dish:
Authentic tools needed:
Comments