Beetroot pachadi
Cooking time: 10 min. / 4 min.Difficulty: easy
Gently spiced beetroot salad, which belongs to Kerala specials, state of South India. It can be served both, warm and cold. And it is vegetarian dish as majority in India.
Process
Blend in a blender ingredients for the paste. Set aside.
Heat oil in a pan on a high flame, fry mustard seeds and curry leaves 1 minute. Oil has to be heated enough, that mustard seed start popping up. Otherwise they do not release their aroma, which would be a pity. Add beetroot, onion, ginger, salt, cover with lid and saute 3 minutes. Tak off stove.
Mix with paste and yoghurt and serve still warm or cold, with rice or chapati, with other Indian dishes.
To buy curry leaves US, UK, Europe
, coconut scraper US, UK, Europe
, Indian pan kadai US, UK, Europe
, rice cooker US, UK, Europe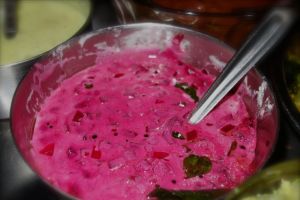 Ingredients
For 4 portions:
1 large beetroot - grated on strings
1 red onion finely chopped
1 cm fresh ginger finely chopped
10 curry leaves
1/2 tsp black mustard seeds
small cup white yoghurt (curd)
pinch of salt
1 tbs coconut or vegetable oil
For paste:
Side dish:
Authentic tools needed:
coconut scraper
kadai pan
blender
rice cooker
Comments