Bun cha gio - Vermicelli with fried spring rolls
Cooking time: 30 min. / 15 min.Difficulty: easy
If you made too many spring rolls, you can eat part of them with vermicelli and you get Bun cha gio. Really simple dish. You just cut spring rolls on noodles, add some vegetables, traditional Vietnamese sauce and here we go. I have got some pork on the picture too, but it was a bonus ;)
Process
Use fried spring rolls "leftovers" or prepare new ones according to this recipe.
Cook vermicelli according to the instructions on the pack. When finished cooking them, it is very important to rinse them in cold water, that they do not get overcooked while set aside.
Serve this way: Put noodles into a bowl, cover with spring rolls cut by scissors on 3-4 pieces. Add fresh and pickled vegetable or green papaya salad. Top with peanuts, spring onions and fresh Vietnamese herbs. Pour on some Nuoc cham sauce, which you can prepare home according to this recipe.
To buy vermicelli rice noodles US, UK, Europe
, To buy rice paper US, UK, Europe
, To buy Nuoc cham sauce US, To buy a wok US, UK, Europe
, To buy chopsticks US, UK, Europe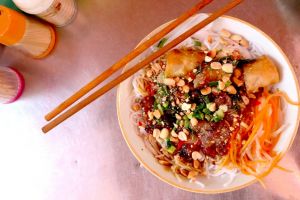 Ingredients
For 4 portions:
Comments