Gai phat met mamuang himmaphan - Chicken with cashew nuts
Cooking time: 10 min. / 5 min.Difficulty: easy
Irresistible combination of various flavors and consistencies. Another delicacy from range of not spicy Thai dishes.
Process
Heat up oil in a wok, add chicken meat and stir fry 1 minute. Add garlic and stir fry 20 secs. Add cashew nuts, red and green peppers, tomato and onion. Stir fry 20 secs and add sugar, MSG and all sauces. Mix well. Pour in meat broth. Saute 1 minute and just before serving add spring onion, cilantro, pepper and serve with rice.
To buy a fish sauce US, UK, Europe
, To buy an oyster sauce US, UK, Europe
, To buy a wok US, UK, Europe
Video recipe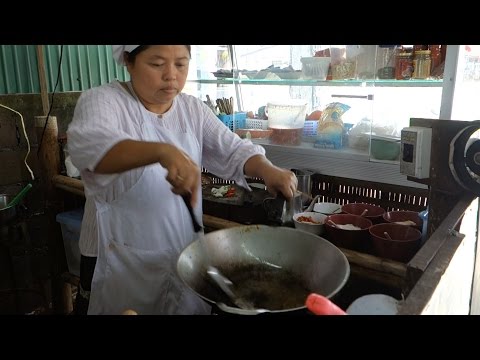 Video contains subtitles.
Ingredients
For 4 portions:
400g chicken breasts cut on small pieces
3 cloves garlic crushed
1 onion cut on large pieces
2 spring onions cut on 3 cm long pieces
1 handful fresh cilantro chopped
1 handful unsalted cashew nuts
1 small green pepper sliced on oblique pieces
2 small red pepper sliced on oblique pieces
1 small tomato cut on eighths
1-2 tsp sugar
pinch of MSG (optional)
1 tbs fish sauce
1 tbs dark soy sauce
1 tbs oyster sauce
1 skimmer of meat broth
black pepper powder to taste
1 tbs oil
Side dish:
Authentic tools needed:
Comments