Kottu roti
Cooking time: 30 min. / 5 min.Difficulty: easy
Another recipe from Sri Lankan street food range. Roti again, but chopped this time, as this is the meaning of the word kottu in Sinhala. So the result is something between pasta and risotto, as everything is chopped very fine. Preparation of this dish is accompanied by the very typical metal rhythmic sounds, each restaurant in Sri Lanka has its own.
Process
DOUGH:
Mix dough ingredients and process properly. Create balls, golf ball size, put one next to each other, coat with oil and let them rest.
Then take a ball of the dough and create large and a very thin griddlecakes. It is important to work on a smooth metal board, that the dough doesnt stick to it. When you have a large and tiny griddlecake, put on a hotplate coated slightly with oil. Then create another one, put on top of the first one and turn both of them, then continue like this again and again, that you always have the newly added directly on the hotplate.
Then take all of the griddlecakes, create roll of them and start cutting it from the side. Then turn the heap by 90 degrees and continue cutting. And as what you want are just a tiny pieces of dough, if you can see some larger parts, chop them fine.
MIXING WITH OTHER INGREDIENTS
Fry curry leaves, garlic and ginger on a bit of oil. Add carrot, white cabbage, leak, red onions, green chilies. Then add an egg, leftovers of chicken curry, chili flakes, chicken curry sauce. Mix and chop. Please see the video.
There are so many variants of kottu. You can use just an egg and chicken curry, or vegetarian version, meaning egg and vegetable only. It simply depends on your preferences and fantasy.
To buy curry leaves US, UK, Europe
, To buy a pasta maker US, UK, Europe
Video recipe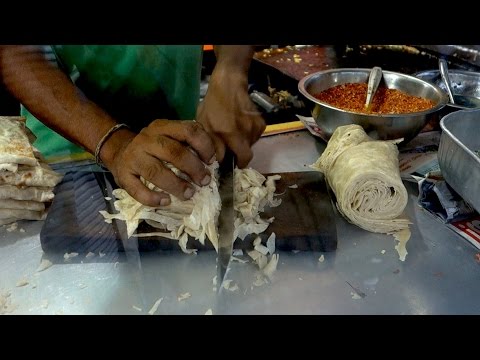 Video contains subtitles.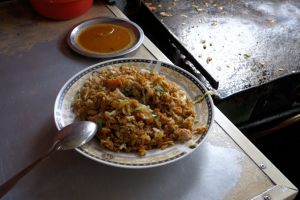 Ingredients
For 4 portions:
Dough:
1 and 1/3 cup wheat flour
1 and 1/2 tbs butter
1/2 tsp salt
2/3 cup water
oil to drizzle the dough and for frying
Other ingredients:
chicken curry leftovers including sauce
handful white cabbage cut into strips
1 small carrot grated
piece of leek cut into strips
1 small red onion chopped
16 fresh curry leaves
eggs - one for each portion
chili flakes - usually 1 tsp per portion
3 cloves garlic crushed
1-2 cm long piece of fresh ginger
Comments