Chicken curry
Cooking time: 15 min. / 25 min.Difficulty: easy
I was walking on the train trails, passing a beautiful house made of ground, in front of which kids and dogs were playing. Kids were all smiles and calling at me "hello, what is your name?". So we started chatting, whole family joined us and they were so nice and as a bonus I got invitation for a Sunday lunch. One of the dishes was chicken curry. Most of curries in Sri Lanka are vegetarian. If it is with meat, the most common is the chicken one. And it was amazing!
Process
Chop chicken on middle size pieces, bones included. Add meat curry, salt and chopped tomatoes. Mix it and add bit of water.
Heat oil on a very high flame, fry onions, garlic, ginger, cardamon, curry leaves, pandan leaves and lemon grass. Crush the lemon grass a bit before, that the aroma came out better. Fry 1-2 minutes, then add the chicken mix, fry about 2 minutes uncovered, then cover it and stew on a smaller flame about 20 minutes.
Serve with rice and other Sri Lankan curries.
To buy a clay pot US, UK, Europe
, To buy cardamon pods US, UK, Europe
, To buy pandan leaves US, UK, Europe
, To buy curry leaves US, UK, Europe
Video recipe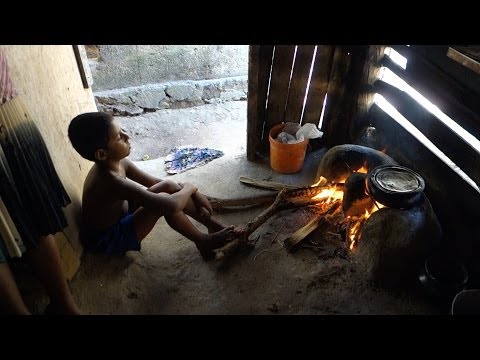 Video contains subtitles.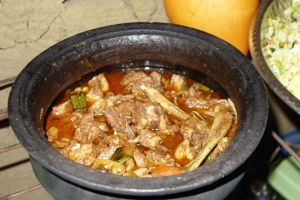 Ingredients
For 4 portions:
1/2 chicken
2 tomatoes
25 g meat curry mix
pinch of salt
10 curry leaves
1-2 pandan leaves cut on 3 cm pieces (optional)
2 red onions chopped
5 cloves garlic crushed
2-3 cm fresh ginger crushed
7 green cardamon pods ground
coconut or vegetable oil
Side dish:
Authentic tools needed:
Comments