Black bean fish
Cooking time: 10 min. / 10 min.Difficulty: easy
This delicacy I had in a small restaurant on Borneo island. It was so good I couldn't resist and went there again following day. The waiter spoke English a bit, so I mentioned that I love cooking. When I wanted to pay, he brought me three pieces of paper. One of them was the bill, the other one was recipe for the dish I had just finished and the third one was for the fish in a black bean sauce I had yesterday here. I love Asia and approach of local people, who are happy when they make other people happy.
Process
Cut the fish on strips. Heat up oil in a wok on a high heat, then put on medium and fry fish about 2 minutes until golden brown from all sides. Manipulate with the fish carefully that it doesn`t break. Remove from the pan and drain.
Dry wok with a napkin, heat up again, add sesame oil, black beans, garlic, ginger, onion and stir fry 2 minutes. Add chilies, carrot and spring onion and stir fry 3 more minutes on a high heat.
Add soya and oyster sauce, salt, pepper and mix well. Add fish and mix carefully but properly, stir fry 1 more minute.
Serve with rice, garnished with fried onions.
To buy preserved salted black beans USA, sesame oil US, UK, Europe, oyster sauce US, UK, Europe, light soya sauce US, UK, Europe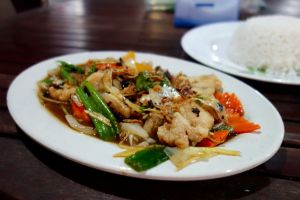 Ingredients
For 4 portions:
400g white fish fillets skinned
3 tbs oil
1 middle sized onion cut on 1-2 cm pieces
3 cloves garlic
3 cm fresh ginger cut on strings
1 carrot sliced
handful spring onion cut on a wide strings
1 and 1/2 tbs black beans preserved in salt coarsely chopped
2 green chilies chopped
1 red chili chopped
1 tbs oyster sauce
1 tbs sesame oil
1 tbs light soya sauce
salt
fried onions
Side dish:
Authentic tools needed:
Comments