Xoi dau den - Sticky rice with black beans and coconut
Cooking time: 10 min. / 45 min.Difficulty: easy
Very common breakfast in Vietnam is a soup or rice with meat, which is not very common for me back home. So a breakfast like this on a daily basis was sometimes too much. You can imagine, how happy I was when I was walking down the street and met a lady who was offering some sweet purple mix topped by peanuts, served on a banana leaf. It tasted great and was a pleasant change I really needed.
Process
Rinse soaked beans and cook in salt water till soft. Drain nearly all water, litle bit set aside.
Rinse soaked rice, drain and put to a strainer to get rid of excess water. Mix with boiled beans and put on a bamboo steamer. If you have different steamer, with holes, better use a piece of clothes, that the rice doesn`t go through and the manipulation is easier too. Pour on the bit of water from beans (1-2 tbs), salt to taste, mix and steam on a medium heat.
In about 15 minutes mix the content and add water if needed.
Cook another 15 minutes.
Serve topped with fresh coconut, sugar, sesame seeds and crushed peanuts.
The video below is NOT a complete recipe. It is filmed on the street in Vietnam, just that you can see the authentic view. Xoi dau den starts at time 2:25.
To buy a glutinous rice US, UK, Europe
, To buy a sticky rice steamer US, UK, Europe
, To buy a bamboo steamer US, UK, Europe
, To buy a coconut scrapper US, UK, Europe
Video recipe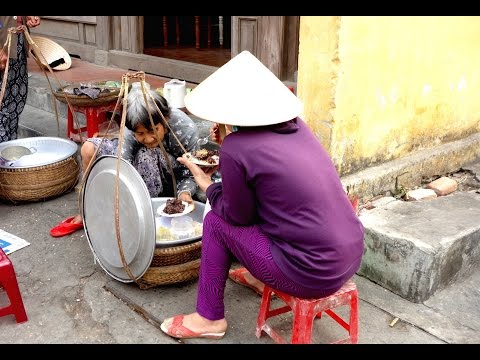 Video contains subtitles.
Comments