Green papaya salad
Cooking time: 10 min. / 0 min.Difficulty: easy
When I was a kid, my mum was always telling me not to eat unripe fruit, that I will be sick. In Vietnam and other Asian countries, their opinion is completely different. Unripe fruit is used as vegetable. Like in case of unripe, green papaya, which is used into various kinds of salads. This recipe is the most frequent and simple one.
Process
Remove seeds from papaya, peel it and grate on long noodles. Clean carrot and grate the same way.
(It is very common in Vietnam, that you can get mix of grated papaya and carrot on local markets. It is fresh of course, loose and with no chemicals added.)
Clean ginger and mince it. Mix sugar with vinegar, when sugar melts, mix with water and add ginger. Mix well again and stir into mix of papaya and carrot.
Serve as a side salad with various Vietnamese dishes, like pancakes, fried chicken ......
To buy papaya grater US, fish sauce US, UK, Europe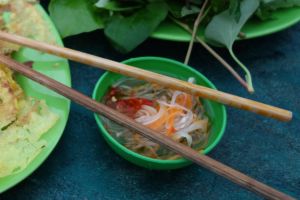 Ingredients
For 4 portions:
1 carrot
2 cm long piece fresh ginger
1 tbs sugar
1,5 tbs white vinegar
1 dcl water
1/2 tbs fish sauce (optional)
Authentic tools needed:
Comments