Fried tofu with red chilies and lemon grass
Cooking time: 5 min. / 10 min.Difficulty: easy
After about five days spent with Vietnamese family, who served huge heaps of pork with each meal, this vegetarian dish was a very welcome change.
Process
Cook rice first.
Cut the green part of lemon grass, remove all dry parts and with chilli peppers including seeds chop very fine. Dice tofu. Heat oil in a pan. The amount of oil should reach 2/3 of tofu cubes height. We fry 5 minutes until it gets golden colour and turn upside down and fry 5 more minutes. Take tofu out, drain and pour oil from the pan.
Fry chilli peppers and lemon grass about 1 minute on the same pan with tiny bit of oil after tofu. Add tofu, mix and fry 30 more seconds. Serve with rice and each bite of tofu dip in soya sauce just before eating.
To buy a lemon grass US, UK, Europe
, To buy a tofu US, UK, Europe
, To buy a rice cooker US, UK, Europe
, To buy a wok US, UK, Europe
, To buy chopsticks US, UK, Europe
Video recipe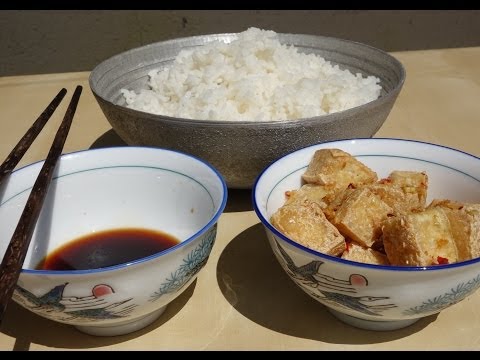 Video contains subtitles.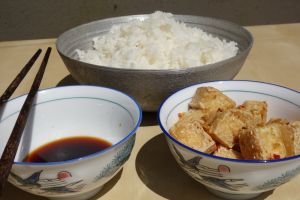 Ingredients
For 4 portions:
Side dish:
Dip:
Authentic tools needed:
Comments