Som Tum - Green papaya salad
Cooking time: 10 min. / 0 min.Difficulty: easy
This Thai salad is a perfection itself. Firstly it was prepared by a really nice couple by the road, who were passing by with their mobile kitchen on a sidecar. You just wave on them, they stop and prepare straight in front of you what you choose from their offer. The combination of flavours of lime, palm sugar, peanuts, shrimps, chilies ..... do I really need to add more?
Process
Crush garlic and shrimps in a mortar.
Add all other ingredients except papaya into the mortar and slightly crush as well and mix. Crush just as little, that tomatos release juice and other ingredients their aroma. Especially be careful with chilies, the more you crush them, the more spicy they will be.
Add grated papaya and mix well.
Serve as it is or with sticky rice.
Vegetarian option is without the shrimps and with soya sauce instead fish sauce.
To buy precooked dried shrimps USA, UK, Europe
, to buy palm sugar USA, UK, Europe
to buy a ceramic mortar USA, UK, Europe
Video recipe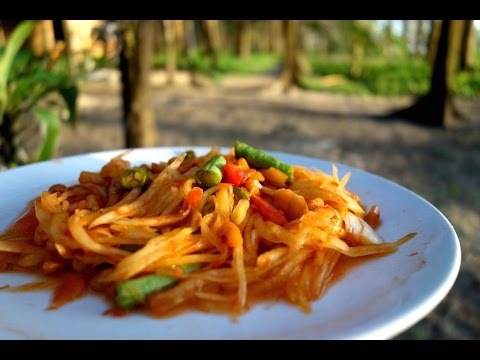 Video contains subtitles.
Ingredients
For 4 portions:
4 cups of grated green papaya
3 cloves garlic
3 tbs dried shrimps
8 long green soft Thai bean husks cut on 2 cm long pieces
3 small tomatos sliced
3 tbs peanuts
3 tbs fish sauce
3 tbs palm sugar
juice from 1 and 1/2 lime
Comments