Larb moo - Minced pork meat salad
Cooking time: 10 min. / 5 min.Difficulty: easy
When one says refreshing salad, the last thing to imagine would be a salad made of pork minced meat. But with a lime juice, fresh herbs, spring onions ...... I was able to get it even in the biggest heats.
Process
If you can`t buy roasted glutinous rice powder (it is more coarse than flour), you can make it easily yourself. In Thai cuisine it is used quite a lot, so just make much more than you need for larb, that you can use it later too. It brings nice crunchy consistency to the dishes.
First roast dry (uncooked) glutinous rice on a dry pan on a low heat for about 15 minutes until it gets golden color and starts releasing popcorn like scent. Stir constantly. Remove from stove. Let it cool down and pound in a mortar for a coarse powder or blend in a blender.
Put small amount of water into a pot, just as much, that the pork meat is submerged. As soon as it starts boiling, add the minced meat. Cook on a medium heat about 3 minutes, until it is cooked. Stir and make sure, there are no large lumps of the meat. Remove from stove, drain and set aside.
Add fish sauce, lime juice, chili flakes, rice powder, onion and spring onions to the pot with meat and stir well.
Stir in carefuly fresh herbs and serve still warm.
Serve with steamed rice.
To buy a glutinous rice USA, UK, Europe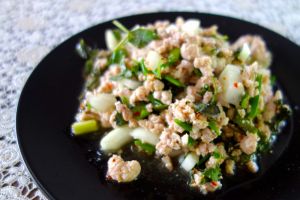 Ingredients
For 4 portions:
500g minced pork meat
4 spring onions sliced
1 small onion cut on tiny strings
3-4 tbs fish sauce
2 heaped tbs of a white glutinous rice powder
1 tbs chili flakes
1 handful fresh mint leaves coarsely chopped
1 handful fresh thai basil leaves coarsely chopped
few cilantro leaves
juice of 2-3 limes
Authentic tools needed:
Comments