Spicy and sour fish curry
Cooking time: 20 min. / 30 min.Difficulty: easy
If you love spicy food, you will love this Sinhala fish curry recipe. Check the list of ingredients and you will understand ;). But still could be worse. Better have some sugar or yoghurt with you to extinguish your tongue.
Process
Soak dried goraka. Mix chili powder and pepper and with a bit of water crush into a paste. Crush goraka into a paste. Or simply put soaked goraka, pepper and chili into a blender with a bit of water and blend.
Put fish into a pot. Add the paste or spice watery mix from the blender and mix properly with the fish. Add more water, that the fish is submerged. Add garlic, curry leaves, salt to taste and cook covered about 30 minutes on mild heat.
Serve with rice and other Sri Lankan curries.
To buy curry leaves US, UK, Europe
, To buy a coconut wood spoon US, UK, Europe
Video recipe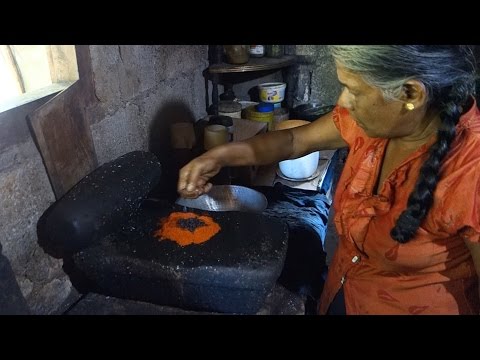 Video contains subtitles.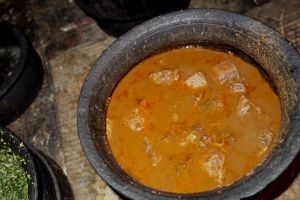 Ingredients
For 4 portions:
700g fish - tuna cut into pieces or small gutted fish
3 tbs chili powder
1 and 1/2 tbs fresh ground black pepper corns
1 handful dried goraka
6 cloves garlic coarsly crushed
10-15 curry leaves
salt
Side dish:
Authentic tools needed:
clay pot
coconut scraper
mortar
Comments