Dhal
Cooking time: 10 min. / 30 min.Difficulty: easy
The essential dish in Sri Lanka. Locals eat it two, sometimes even three times a day. As most of recipes in Sri Lanka are vegetarian and vegan, lentils are very important source of proteins. Most of dhal recipes I have known seemed too complicated. So this is probably one of the most easy recipes, I was taught by my Sri Lanka family and it is so delicious too.
Process
Rinse lentils and put in a pot and mix with all ingredients except coconut milk and cream. If you prepared home made coconut milk and cream, add into the pot the milk only. If you have a canned coconut cream, pour about 1/4 of it into the pot with the water.
Cook covered on a small heat about 20-25 mins. Then add rest of coconut cream and cook uncovered about 5 mins.
Serve with rice and other kinds of Sri Lanka curries.
This process is for the tiny lentils. If you use the bigger ones, the process is the same, but for cooking use water only (no coconut milk or cream). Length of cooking depends on the size of lentils. Add coconut cream just 5 minutes before the end of cooking.
To buy a clay pot US, UK, Europe
, To buy red lentils US, UK, Europe
, To buy pandan leaves US, UK, Europe
, To buy fenugreek US, UK, Europe
, To buy curry leaves US, UK, Europe
, To buy a coconut scraper US, UK, Europe
Video recipe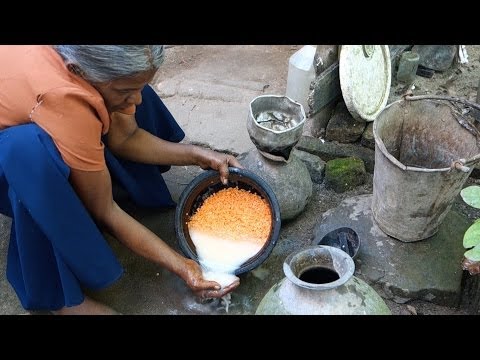 Video contains subtitles.
Ingredients
For 4 portions:
200g small red lentils
3 cloves garlic crushed
4 green chili peppers - with seeds, halved
1 red onion - fine chopped
1 tsp curry powder
1/2 tsp chilli powder
1 heaped tsp cumin
1/2 tsp mustard seed powder
1 small cinnamon stick
8 curry leaves
10 cm long pandan leave (optional)
1/2 tsp fenugreek (optional)
1 tsp salt
pinch of black pepper
home made coconut milk (400 ml) and coconut cream (100 ml) from half of a coconut or 100 ml of coconut cream in a can and 400 ml of water
Side dish:
Authentic tools needed:
clay pot
coconut scraper
mortar
Comments