Vegetarian tagine berber style
Cooking time: 10 min. / 30 min.Difficulty: easy
Morocco is not a paradise for vegetarians. So vegetarian tagine doesn`t belong to typical Moroccan dishes. But this doesn`t mean they do not exist at all. I was so lucky I bumped into a place they made it and it was a traditional berber style.
Process
Put chopped onions at the bottom part of tajine, salt to taste, add black pepper, saffron and add green parsley. Fry 1-2 minutes.
Mix potato and carrot together. Half of the mix add into the tajine and mix with seasoned onions. Second half put on top of the onion/potato/carrot mix. Press a little bit. Salt to taste again, add black pepper, green parsley, put a few green olives on top and cover.
Saute on a medium heat 30 minutes.
Serve with Moroccan bread (khobz).
To buy tajine USA, UK, Europe; saffron: USA, UK, Europe, Moroccan plates and bowls USA, UK, Europe
.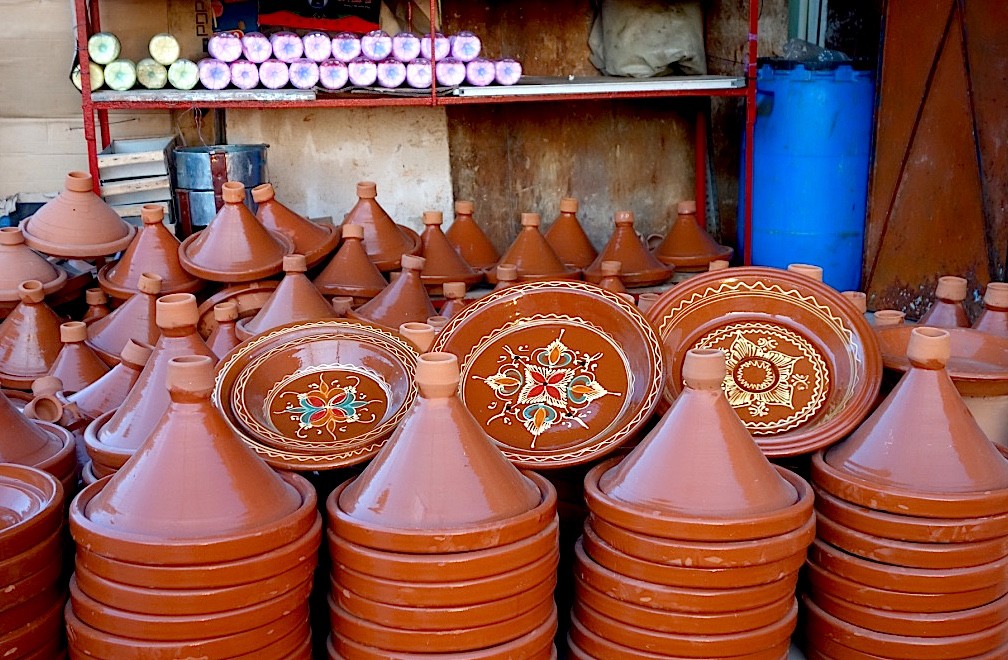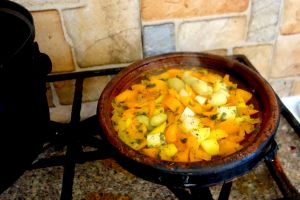 Ingredients
For tagine for 1-2 persons:
1 red onion finely chopped
olive oil
salt
1/2 tsp saffron or its synthetic substitute
handful green parsley chopped
1 carrot without the middle part cut into tiny strips
1 potato finely diced
6 pickled green olives
For 8-10 portions:
For couscous:
1 kg dry couscous
4 tbs virgine olive oil
salt
pinch of ground black pepper
1 tsp ground cumin
couscoussier = double chambered steamer; the bottom part is for meat and vegetables, top is for steaming couscous
For meat and vegetable mix:
1 kg beef cut on pieces
2 carrots cut on longitudinal quarters, hard midsts removed
1 courgette halved
2 small aubergines cut on longitudinal qarters and peeled just partly (stripes)
1 handful shelled large green beans
6 pcs turnips peeled and halved
1 green bell pepper cut on stripes
1 onion sliced
1 tomato chopped
1/4 small pumpkin unpeeled hollowed out
1 tsp ground red paprika
1,5 tsp ground black pepper
1,5 tsp ground cumin
0,5 tsp ground saffron or turmeric
oil
salt
handful green parsley chopped
handful cilantro chopped
1 green chili
Authentic tools needed:
Comments