Fried sardines with herbs ala Omar
Cooking time: 20 min. / 5 min.Difficulty: easy
Fried sardines dusted in flour you will get easily nearly everywhere in Morocco. Usually it is a huge portion and it costs nearly nothing. But the recipe I learned from Omar in a fisherman house on the beach was simply the best.
Process
Let the sardines dipped in water for about 15 mintues to be able to remove bones easily. Cut off the heads, gut, halve and remove spine.
Mix parsley, cilantro, paprika, garlic, lemon juice and olive oil.
Take two slices of sardines, put the herb mix in between, press them together and dipp into the herb mix from the outside too. Prepare like this all sardines. Before you finish the last one, the first ones will be marinated.
Then dust them in flour in the same order like you were putting them together.
When they are all dusted, deep fry them till golden brown.
Serve with Moroccan bread (khobz).
To buy Moroccan plates USA, UK, Europe; to buy virgin olive oil USA, UK, Europe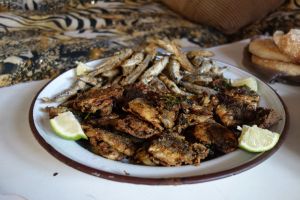 Ingredients
For 4 portions:
30 fresh sardines
2 handful green parsley chopped
2 handful cilantro chopped
1 tsp paprika powder
3 cloves garlic crushed
juice from 1/2 lemon
3 tbs virgin olive oil
fine flour for dusting
oil for deep frying
Comments