Chicken tajine
Cooking time: 15 min. / 30 min.Difficulty: easy
Another tajine recipe. More precisely a dish prepared in traditional Moroccan pot, tajine. As there are so many possibilities what can be inside. This recipe I learned in my favourite small restaurant on one of the most beautiful beaches in Morocco, Lagzira.
Process
Pour oil to the bottom part of tajine, heat up and fry chicken pieces. Add most of black pepper, cumin, paprika, salt and saffron.
In 2 minutes sprinkle with 1/2 handful green parsley and turn the chicken.
In 2 more minutes add on top of chicken onion, then carrot, then potatoes. Top it with chopped tomatoes, garlic and olives.
Decorate the "heap" with green peppers from all 4 sides and place green chilies on top.
Sprinkle with green parsley, salt to taste, add little bit more of black pepper, about 0,5-1dcl water and cover. If the water evaporates completely before the end, add little bit more (1 or 2 table spoons).
Saute about 30 minutes.
Serve with Moroccan bread (khobz).
To buy tagine USA, UK, Europe; saffron: USA, UK, Europe, Moroccan plates and bowls USA, UK, Europe
.
Video recipe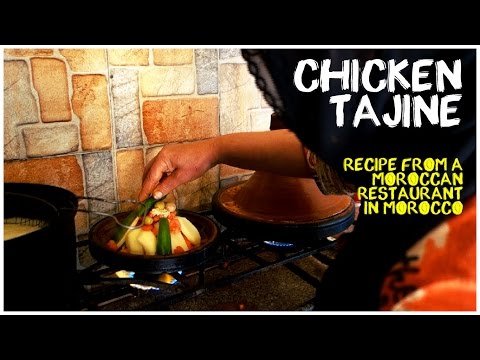 Video contains subtitles.
Ingredients
For 1-2 portions:
3-4 pieces of chicken
2-3 tbs olive oil
1/2 tsp black pepper powder
3/4 tsp cumin powder
1/2 tsp paprika powder
pinch of salt
1/4 saffron or its synthetic substitute
1 red onion halved and sliced
handful green parsley leaves chopped
1 carrot without the hard part in the middle, cut into strips
1-2 large potatoes sliced on 1cm thick slices
1/2 large tomato peeled and diced
2 cloves garlic crushed
1/2 handful pickled green olives
1 green chili
Side dish:
Authentic toold needed:
Comments