Sambal goreng kacang panjang and mie - Spicy green beans with noodles
Cooking time: 15 min. / 10 min.Difficulty: easy
I always thought, that cooking from instant noodles is a "special" of Western countries with super fast life style and that nobody in Asia would ever touch dish made of them. How wrong I was :). And this dish was not only easy, but really tasty too. This Indonesian recipe is definitely worth trying.
Process
Crush garlic, shallots, chilies, tomato and red pepper into paste in a mortar or in a blender. Add salt and sugar.
Heat up oil in a wok on a mild fire, add the paste and stir fry 0,5 minute. Add green beans and saute 5 minutes. Add noodles incuding seasoning in the pack and little bit of water. Just enough for the noodles to get soaked and cooked. Saute few more minutes until noodles get soft, stir all the time and try to separate noodles with wooden spoon while stiring.
Serve with rice and othe Indonesian dishes.
To buy noodles mie US, UK, Europe
, To buy Indonesian mortar cobek US, To buy a rice cooker US, UK, Europe
, To buy a wok US, UK, Europe
Video recipe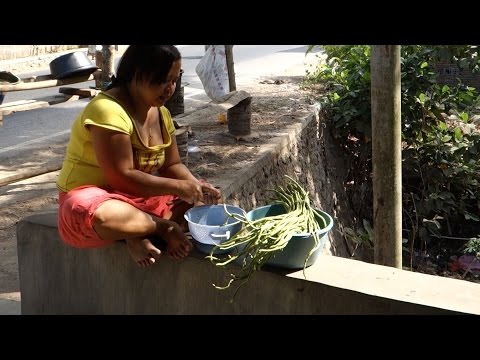 Video contains subtitles.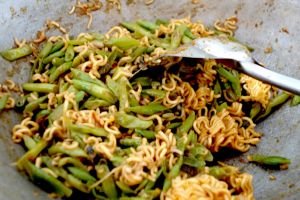 Ingredients
For 4 portions:
green bean husks, cut on oblique 1 cm pieces
10-20 red chilli peppers (Indonesian ones! 2 Thai chilies are enough)
1-2 small Indonesian sweet red pepper chopped (equal to 1/4 of European red pepper)
5 shallots
4 cloves garlic
1 tomato chopped
1/2 tsp sugar
1 instant curly noodles pack incl. sachets with seasoning
salt to taste
2-4 tbs oil
Side dish:
Authentic tools needed:
Comments