Fish satay - Saté ikan laut
Cooking time: 15 min. / 10 min.Difficulty: easy
One of my favourite specials of Bali in Indonesia. Satay made of various kinds of minced fish and shrimps with coconut and a pleasant combination of spices. Usually grilled by the road on bamboo skewers, sometimes on lemon grass stalks, which give to satays amazing aroma.
Process
Mince fish and prawns, set aside.
Crush in a mortar or in a blender shallots, garlic, galangal, lemon grass, chilies kaffir lime leaves and turmeric.
Heat up 1 tablespoon of oil in a wok, fry the crushed ingredient mix. Stir well. In one minute add salt, sugar, tamarind with water and grated coconut. Fry 1 more minute, set aside.
Mix with the meat properly.
Take the meat mixture into your palm, put the skewer into it and wrap around the skewer carefully. It is better if you clean the leftovers from your palm after each satay.
Grill the satays or fry on a pan on a low medium heat with one tablespoon of oil till golden brown.
Serve with rice and sambal.
To buy fresh galangal US, UK, Europe
, kaffir lime leaves US, UK, Europe
, lemon grass US
, palm sugar US, UK, Europe
, tamarind US, UK, Europe
, rice cooker US, UK, Europe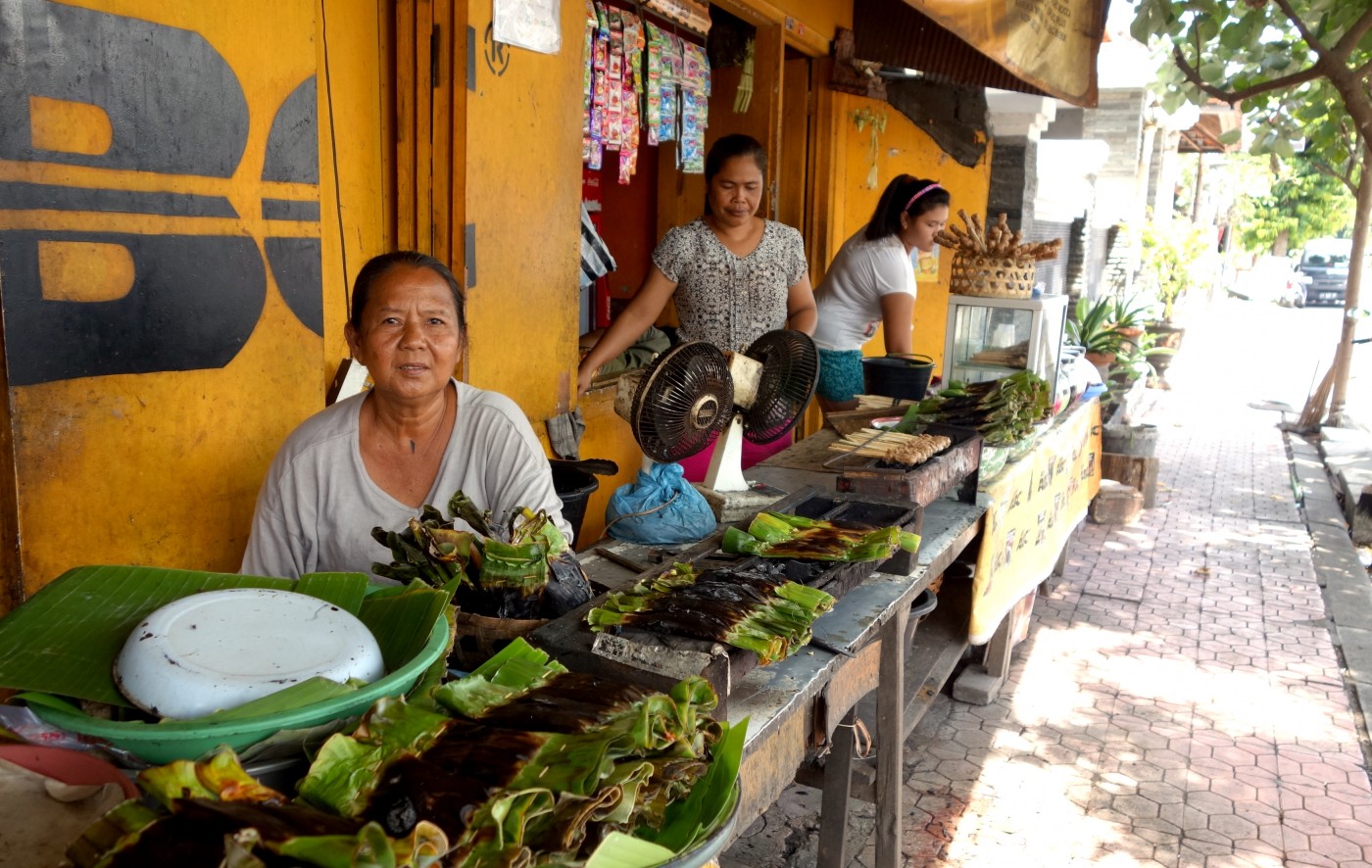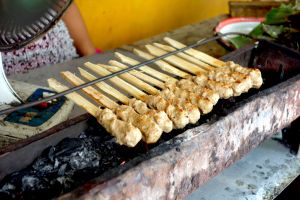 Ingredients
For 4 portions:
500g fish fillets (mackerel, snapper ....)
100g shrimps
50g fresh grated coconut
6 shallots
3 cloves garlic
5 kaffir lime leaves
3 slices galangal
3 slices fresh turmeric
1 tbs fresh lemon grass finely chopped
1 tsp palm sugar or brown sugar
2 red chilies (Indonesian)
1 tamarind husk - mix the pulp with 1 tbs water (or tamarind paste)
salt
2 tbs oil
wooden skewers
Side dish:
Authentic tools needed:
Comments