Beetroot thoran
Cooking time: 10 min. / 10 min.Difficulty: easy
Special, typical for South Indian state, Kerala. It is a vegetarian / vegan recipe, where sweetness of beetroot is balanced with chilies, ginger and garlic.
Process
Prepare thoran mix - blend in a blender coconut, garlic, ginger, cumin, shallots and chilies.
Heat up oil, add black mustard seeds. As soon as they start popping up, add curry leaves and white lentils. After 2-3 mins add beetroot, mix and cover. After 2 mins make a dent in beetroot and put in thoran mix. Do not mix yet. Cover again. In 2 minutes salt to taste, mix, cover again and in 2 more minutes it is finished.
Serve with rice or rotis and other Indian dishes.
To buy white lentils urad dal US, UK, Europe
, To buy curry leaves US, UK, Europe
, To buy a coconut scraper US, UK, Europe
, To buy Indian pan kadai US, UK, Europe
, To buy a rice cooker US, UK, Europe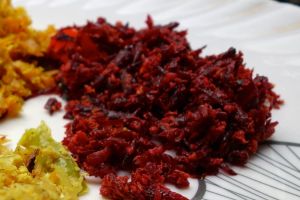 Ingredients
For 4 portions:
2 beetroots - grated
1/2 tsp black mustard seeds
5 curry leaves
1 tsp white lentils urad dal (optional)
salt
2 tbs oil
For thoran mix:
Authentic tools needed:
coconut scraper
blender
kadai pan
rice cooker
Comments