Aloo masala - Potato curry
Cooking time: 10 min. / 20 min.Difficulty: easy
Another curry, which definitely belongs to Indian classics. You can get it in India whole day, including breakfast. If you have some boiled potatoes leftovers, aloo masala is an option number one ;)
Process
Cook potatoes.
Heat oil on a pan on a high heat, add mustard seeds and curry leaves. After 0,5 min add tomatoes, ginger, garlic, onion, salt and cover with lid. Saute on a small fire 10 minutes, until tomatoes get soft and make a pappy consistency.
Add all the spices and 1/2-1 glass of water, that the mix is submerged.
In about 2 minutes add boiled potatoes and warm it up.
Serve with rice, Indian bread (roti), dosa or apam.
If you like it hot, add green chilies with tomatoes. Add coconut milk to soften the curry.
To buy curry leaves US, UK, Europe
, To buy fennel seeds US, UK, Europe
, To buy Indian pan kadai US, UK, Europe
, To buy a rice cooker US, UK, Europe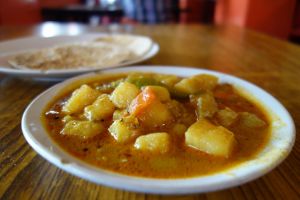 Ingredients
For 4 portions:
1/2 kg potatoes
2 larger tomatoes chopped
2 red onions fine chopped
3 cloves garlic crushed
1 cm fresh ginger crushed
1/2 tsp black mustard seeds
10 curry leaves
1/2 tsp chili powder
1/2 tsp turmeric
1-2 tsp coriander powder
1 tsp chicken powder
1 tsp fennel seeds
1 and 1/2 tsp cinnamon
pinch of salt
2 tbs coconut or vegetable oil
Side dish:
rice or Indian bread, apam, dosha .......
Authentic tools needed:
Comments