The largest free "restaurant" in the world. Golden temple, India
Food for free, accommodation for free, transport for free, luggage storage for free .... A dream? No! Welcome to Golden temple in Amritsar, the holiest place of Sikh religion.
When I was talking to a friend who has been to India many times, what are the places to see, he said: "Hey, as you are into cooking, Golden temple in Amritsar is a must". Not only that it is a beautiful holy place with interesting religion philosophy, with lack of tourists from the West, but there is a huge community kitchen, where 100.000 thousands of pilgrims are being fed daily, too. And as a bonus, everything there is for free. Yes, really, FOR FREE! EVERYTHING! FOR EVERYONE! No matter what religion or nationality you are.
Golden temple in Amritsar is a "mecca" of Sikhism, which is a major religion in Punjab, where Amritsar is located.
Their beliefs are based on sharing, helping each other, living as a part of a community and a tolerance.
As a proof of their tolerance and openness, Guru Arjanem invided Muslim Sufi Sainta to lay the foundation stone of the temple. Their openness is significant by the facts there are four entrance door to the temple, not just one.
Sikhs are on the first sight completely different from other Indians. They are tall and really burly men, from whose way of walk and from their eyes you can read, they are very proud. They wear colorful turbans, covering their long hair, which they never cut.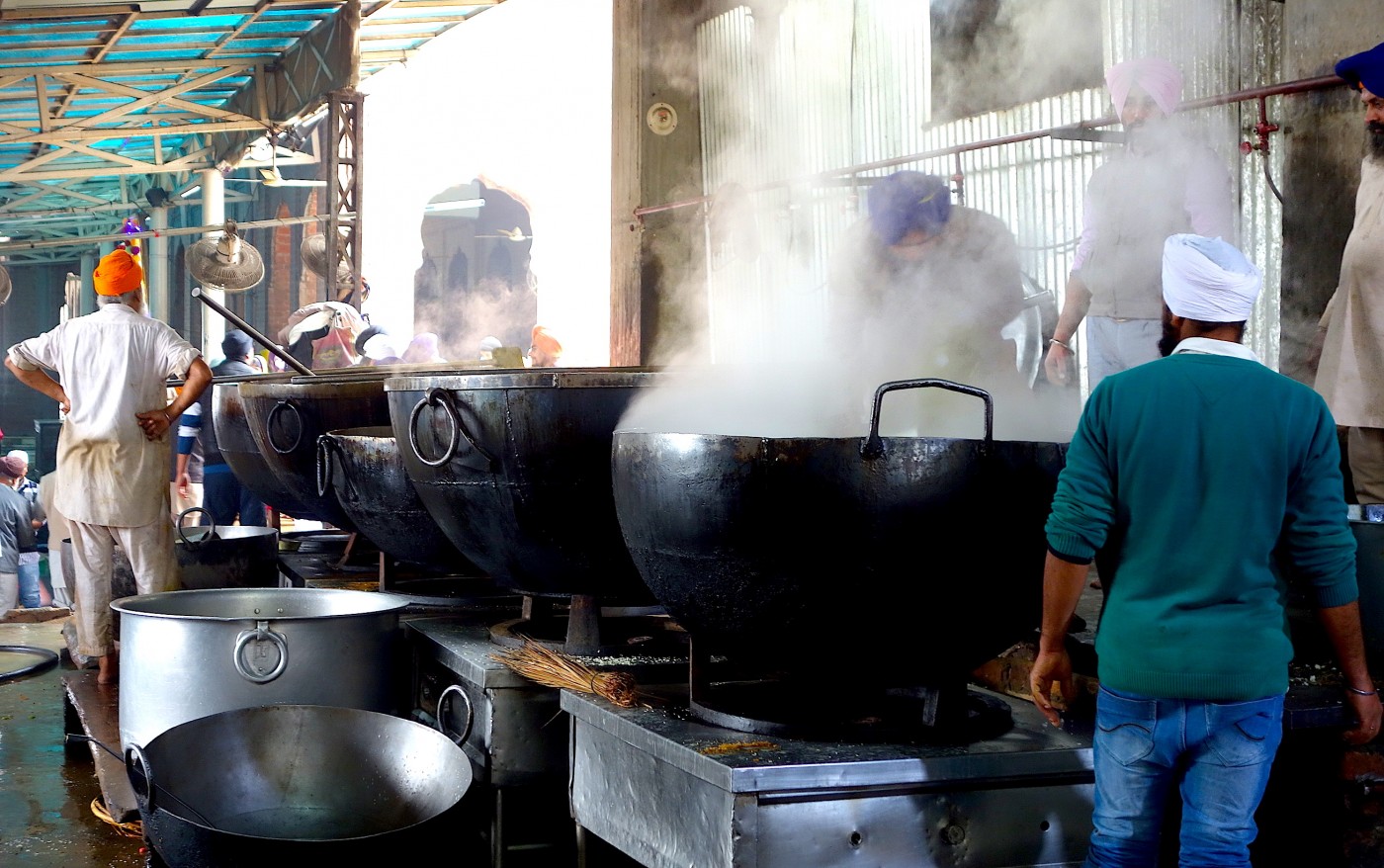 Everybody entering the temple has to wear a head cover. You are allowed to the temple just barefoot, with your feet washed.
Punjab is at the very north of India and I was there at the beginning of January, which was the coldest time of the year. I am quite sensitive for getting cold from my feet, it was super foggy, temperature very slightly above zero and I was still unfreezing from whole night spent in a train, where it was impossible to close nearly of the windows.
So of course, I was not very happy, to take off my shoes and wash my frozen feet in the cold water and then walk around the temple barefoot on the cold marble or concrete for hours. Still of course, respect is respect.
There was a huge surprise though. The water at the entrance basin was nice and warm and at the end of it was a thick and warm carpet spread all around the temple, for the pilgrims not to get cold. What a care! I fell in love with the temple instantly.
Still, there was an icy cold water in the holy lake. I felt really sorry for the screaming toddler, whose father dressed in warm coat, was dipping remorselessly in the pool, for blessing and immortality. This holy lake is one of the reason Sikhs from all over the country are coming to Amritsar.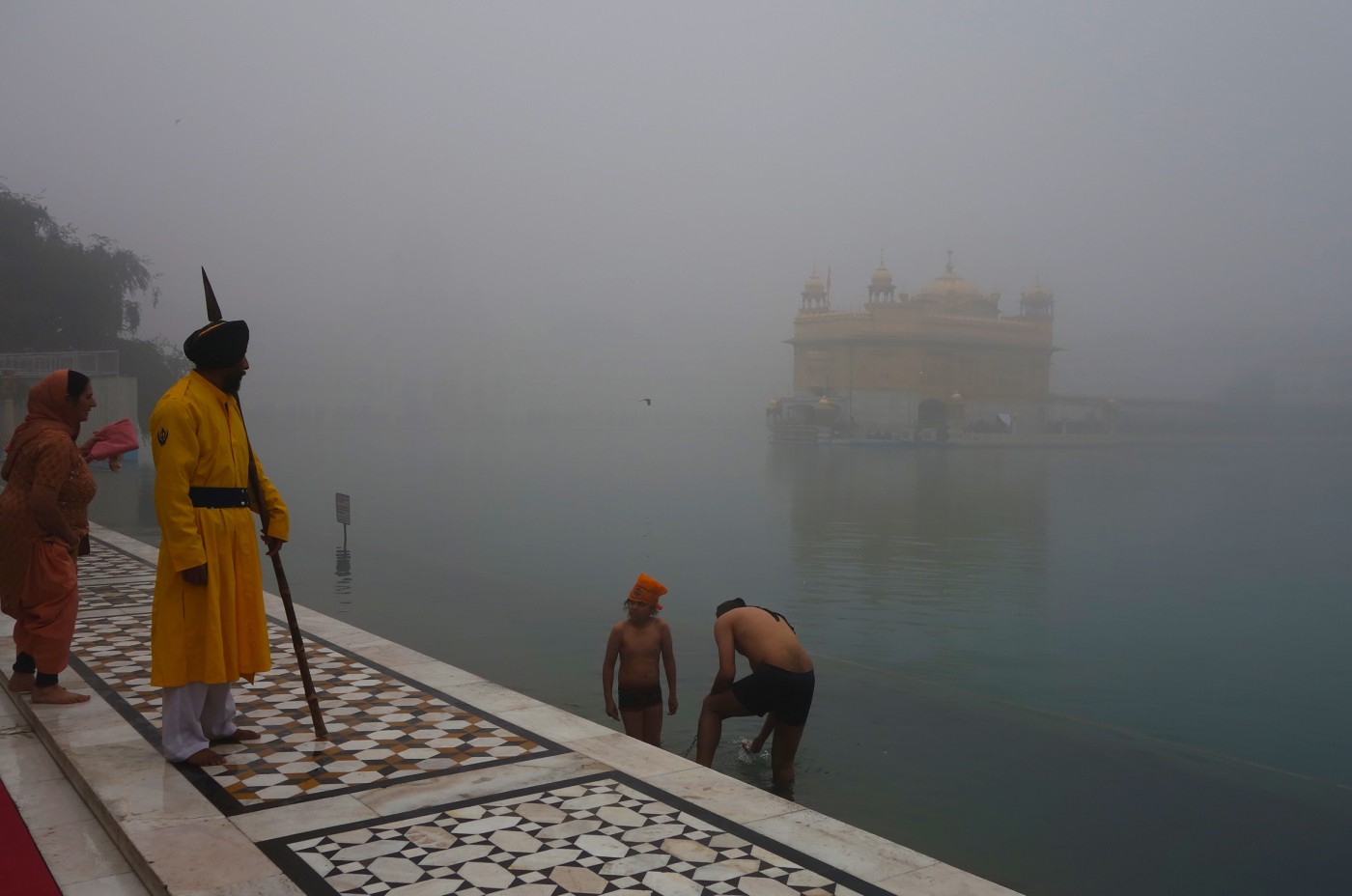 Visit of Golden temple means something for locals. Each Sikh comes here usually at least in his lifetime. Mostly for special occasions like birthdays, child births and weddings.
Sikhs love sharing and helping each other. They proof it on your each step since you enter Amritsar. There is a free bus to Golden temple from the train station. Of course, there are few tricky local tuk tuk drivers who try to bring you there for a price exceeding the real one many times, saying: "No bus to Golden temple today", classics ;).
There is no entrance fee to the temple, no fee for luggage storage, everybody get a lunch, tea and halva as much as you want … and all that inspite of the fact, that there are sometimes even 100.000 visitors a day. And if that is not enough for you, there is a free accommodation too.
Locals sleep one by one on the floor of a large building covered with warm colorful quilts. For tourists there is something like a hostel. Meaning simple rooms with 5-10 beds in each. There is a washing machine as well.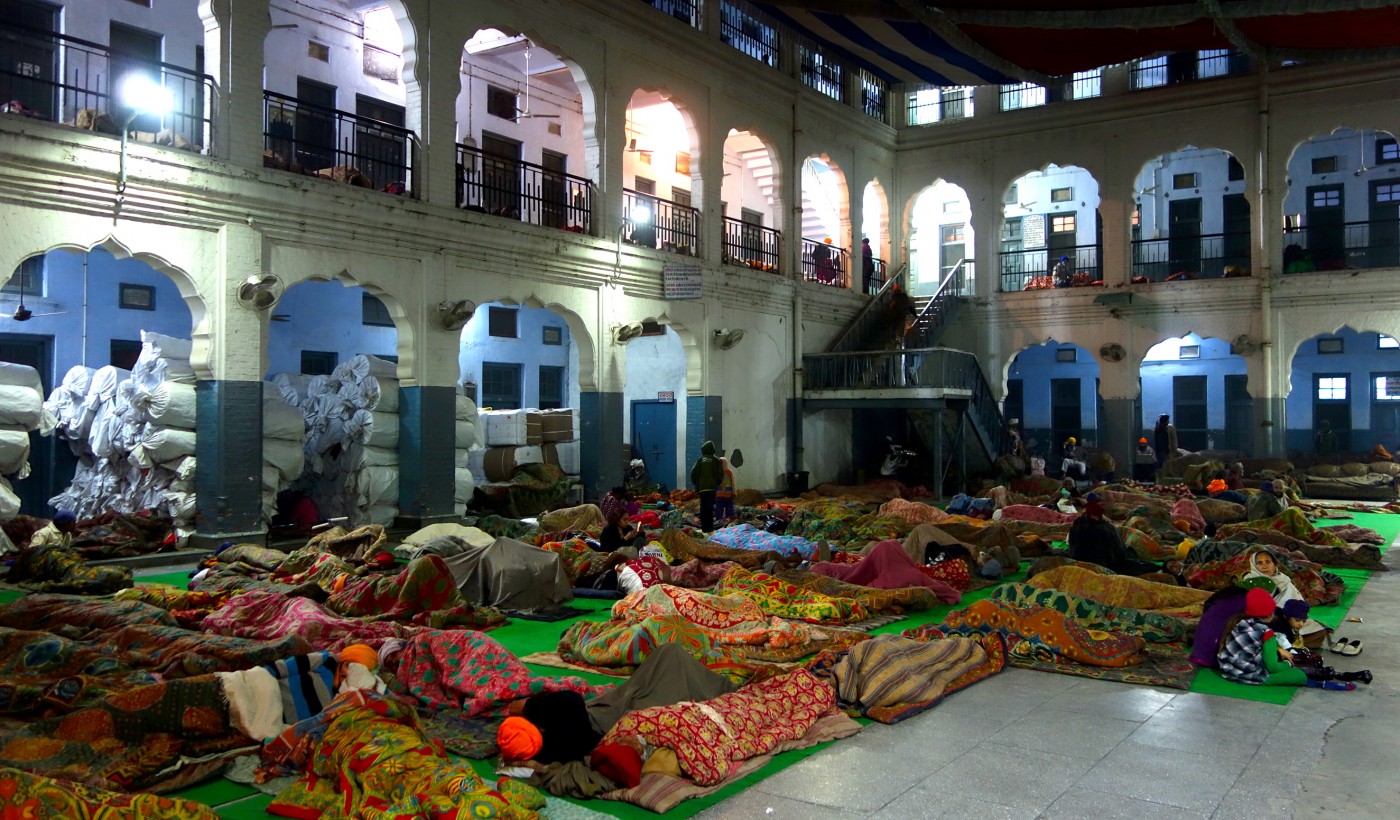 On the other hand pilgrims are expected to contribute into moneyboxes placed around the temple. Believe it or not, there were long lines of locals queuing, munching notes of a pretty high value in their hands.
Feeding and serving to such an enormous amount of pilgrims is not an easy thing. To see the community kitchen was one of my strongest experiences within my whole trip to India.
Everything there is super huge. All the system of food preparation, its serving, tiding, washing the dishes … are done mostly manually and it works great. There are just a few employees, the rest are volunteers who come to help there on regular basis or just during their visit of Golden temple, like me :) I became an "onion peeling specialist" :) As I was the only white person I met in the temple, I was a huge attraction for all, especially when crying all the time while peeling the onions :D. Local volunteers were resistant already.
The only machine I have seen in entire temple was chapatti machine. Otherwise the huge pots were washed the way one climbed into them and washed them from inside. Food is served on the ground, so the "tables" are wiped by a mop, while around one thousand of people is leaving the dining room trough one door, another group of the same size is entering by the other door in the other end of the dining hall.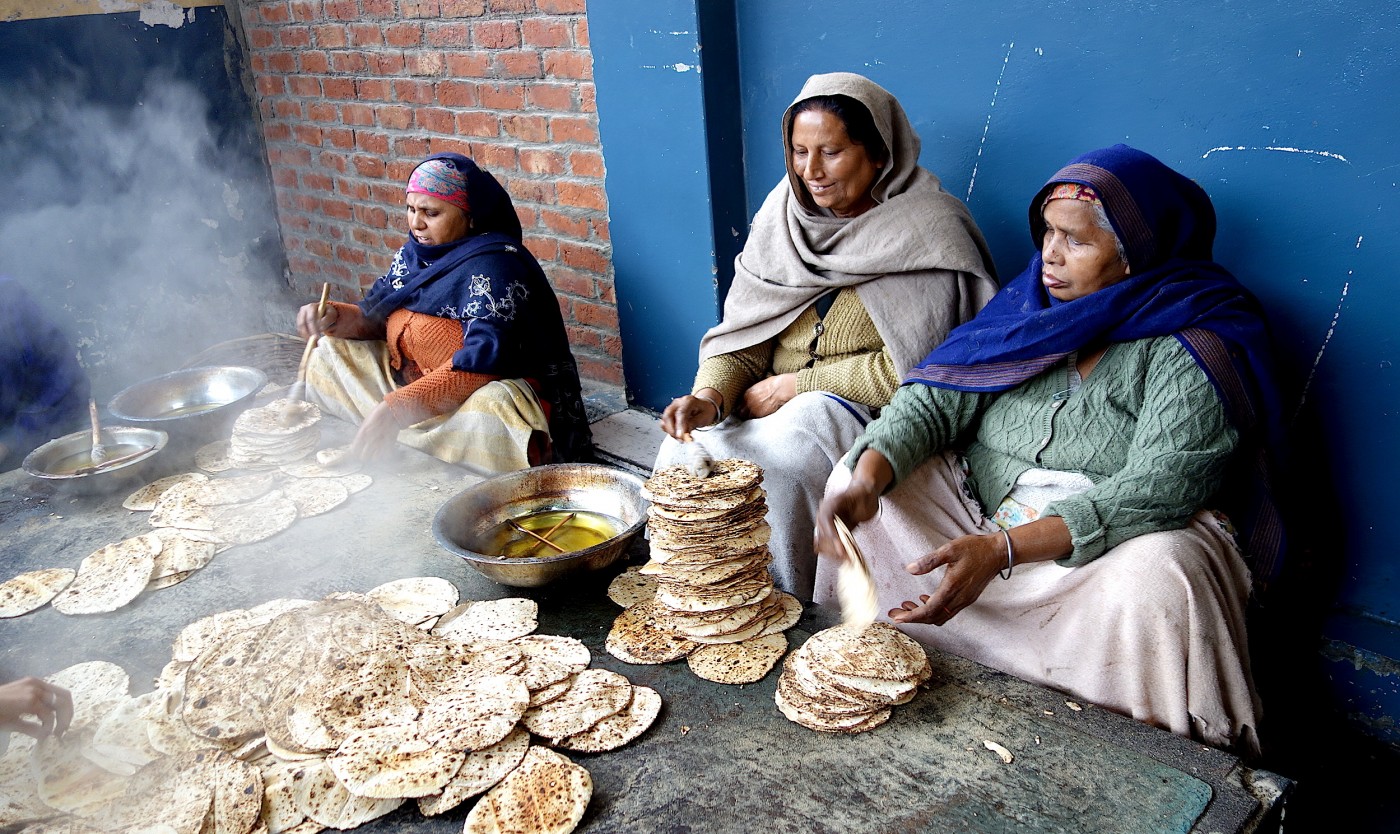 Human chain takes care of the dirty dish sorting and distributing them into huge washing gutters, where grabbed by other volunteers. At the washing "station" men and women work separately, unlike for instance the "preparation station", where they peel potatoes, garlic and onions and work together.
This all was really mental. I loved it. I opened my mouth as soon as I entered Golden temple and closed it probably only the next day. I still can`t believe what I have seen, even now, when I am going through the photos or videos I filmed there.
This is a video from the chapatti bakery. Other videos, from this probably hugest free "restaurant" in the world are coming soon. Keep an eye on my YouTube channel ;)
If you want to make a chapatti, check the recipe here.
About Bo on the road, the author