Goong pad poong karee - Prawn yellow curry
Cooking time: 10 min. / 5 min.Difficulty: easy
It is incredible, that in Thai cuisine it is possible to create such a yummy dish within just 5 minutes. This yellow curry is not an exception. But it is exceptional from hotness point of view. As it is not spicy at all ;)
Process
Heat up oil in a wok, add onion and garlic. Stir fry 30 secs add prawns and stir all the time.
In one minute add curry powder, stir again. In another 30 secs add spring onion, small skimmer of water, sugar, MSG, fish and oyster sauce and meat broth. Stir again.
In another 30 seconds pour in coconut milk, warm up and serve with rice.
To buy a fish sauce US, UK, Europe
, To buy an oyster sauce US, UK, Europe
, To buy a coconut milk US, UK, Europe
, To buy a wok US, UK, Europe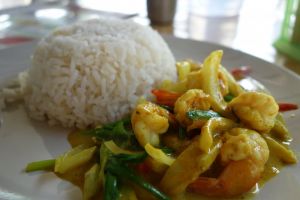 Ingredients
For 4 portions:
400g king prawns
1 onion cut on large pieces
4 spring onions cut on 3 cm long pieces
4 garlic cloves crushed
3 tsp yellow curry powder
2 tsp sugar
pinch MSG (optional)
2 tsp meat broth in powder
2 tbs fish sauce
3 tbs oyster sauce
150 ml coconut milk from can
1 tbs oil
Side dish:
Authentic tools needed:
Comments