Mixed rice
Cooking time: 10 min. / 25 min.Difficulty: easy
This kind of dish is in Sri Lankan villages considered as a dish served at special occasions. And the fact it was decorated with dates, rosins, prawns and eggs was even more special. As in Sri Lanka, they do appreciate guests, and luckily it was me, as I was invited for a Sunday dinner by a very nice family. So one of the courses was this very nice dish. It is something like fried rice. But the rice was not fried, just mixed aside from fire with other fried ingredients.
Process
Cook rice. It is even better to have rice "leftovers" from previous day.
Take a large pan, heat 2 tbs oil on a high flame, add ginger, 1/2 onion finely chopped, pandan leaf, curry leaves, garlic and cardamon. Add mix of vegetable and spices - leek, green beans, carrot, turmeric, salt, chicken broth powder and 1/2 onion cut on strings. Stirfry 3 minutes. Remove from fire.
Mix with rice. And leave in a nice bowl.
Take a small pan, heat decent amount of oil on a very high flame to deepfry prawns. Deepfry them and drain.
Top rice with dates, roisins, prawns and sliced eggs.
They eat whole prawns in Sri Lanka when deepfried. Shell included.
To buy pandan leaves US, UK, Europe
, To buy cardamon pods US, UK, Europe
, To buy curry leaves US, UK, Europe
, To buy a coconut wood spoon US, UK, Europe
, To buy a wok US, UK, Europe
, To buy a rice cooker US, UK, Europe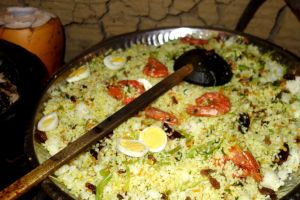 Ingredients
For 6 portions:
rice
5 long green beans sliced on oblique pieces
1 large carrot grated on strings
1 leek cut on strings 3 cm long
2-3 cm fresh ginger crushed
10 curry leaves
1-2 pandan leaves cut on 3 cm pieces (optional)
1 large red onion (1/2 finely chopped, 1/2 cut on strings)
3 cloves garlic crushed
3 green cardamon pods ground
1 tsp turmeric powder
pinch of salt
roisins for topping
dried dates for topping
2 hardboiled eggs sliced
4 paddy prawns
coconut or vegetable oil
Authentic tools needed:
Comments