Green bean curry
Cooking time: 5 min. / 20 min.Difficulty: easy
Curry, that belongs to the most common ones in Sri Lanka. Of course it can`t compete with dhal curry regarding frequency. It is very fast and easy recipe again, you just put everything at once into a pot and cook.
Process
Cut stalk and tip off beans and break them on 3 cm pieces. Mix with all ingredients and cook on a small fire 20 minutes covered.
Serve with rice and other Sri Lankan curries.
To buy a clay pot US, UK, Europe
, To buy pandan leaves US, UK, Europe
, To buy fenugreek US, UK, Europe
, To buy curry leaves US, UK, Europe
, To buy a coconut scraper US, UK, Europe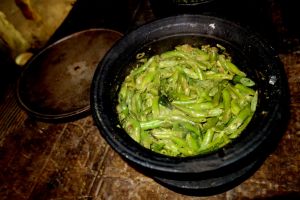 Ingredients
For 4 portions:
400g green bean pods
1 red onion, cut on strips
4 green chili peppers chopped
1/2 tsp fenugreek (optional)
pinch of salt
1/2 tsp turmeric
1 tsp cumin powder
1/2 tsp chili powder
piece of cinnamon stick
8 curry leaves
1 pandan leaf torn on 3 cm pieces (optional)
home made coconut milk (150 ml) or a small can of coconut milk with water added, 150 ml volume to be reached
Side dish:
Authentic tools needed:
clay pot
coconut scraper
mortar
Comments