Beef tajine with green peas
Cooking time: 15 min. / 1 hod. 10 min.Difficulty: easy
This tajine I learned on a traditional Moroccan market in a restaurant made of clothes where they cooked various kinds of tajines not only for shoppers but for vendors as well. Vendors could even cook their own using the kitchen. It was quite fun as I asked for tajine with green peas, so I had to shell them myself. I had to buy the meat too, as there was not meat on the market. The butcher saw a white girl, so he sold me some low quality beef, which I was told buy two local guests who I invited for the lunch as soon as they put the first piece of the meat to their mouths. Next time I have to be more careful.
Process
Heat up oil in the bottom part of tajine, put in the spices (ginger, paprika, cumin, pepper, saffron) and mix well.
Add beef, dip the cubes from all sides into the oil with spices. Add 1/2 of parsley and cilantro, diced radish, mix and cover.
In 2 minutes add onion, mix and cover.
Then add sliced radish and carrot. Create something like a heap. Do not stir.
Put potato slices around the heap. Then pour peas in the middle and top with tomatoes. Cover and simmer till soft. Around 70 minutes.
Serve with Moroccan bread (khobz).
To buy tagine USA, UK, Europe; saffron: USA, UK, Europe, Moroccan plates and bowls USA, UK, Europe
.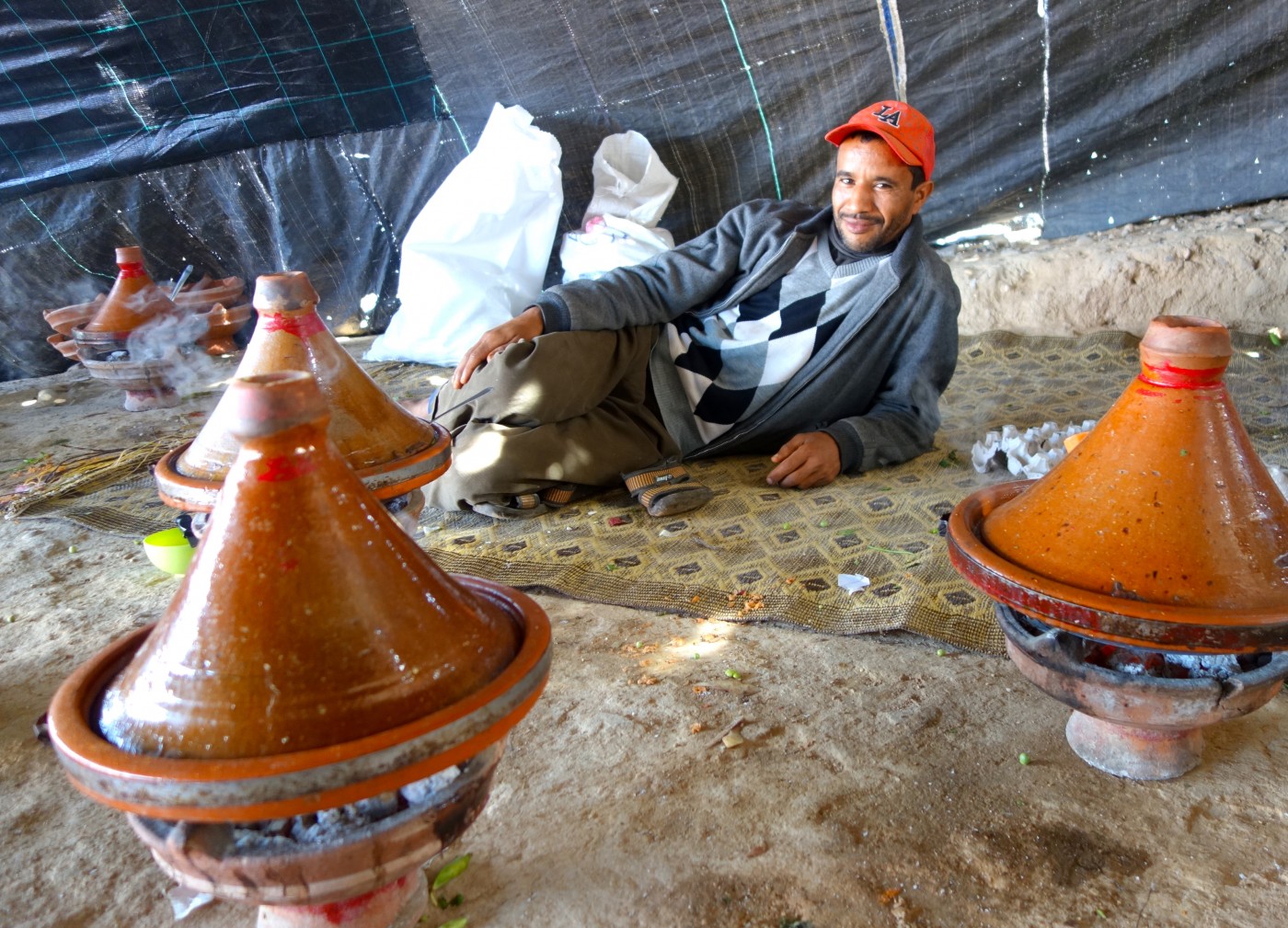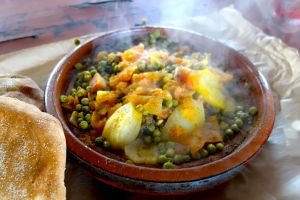 Ingredients
For 1-2 portions:
1/2 kg beef cut on cubes
1 tsp ginger powder
1/2 tsp black pepper powder
1 tsp cumin powder
1/2 tsp paprika powder
1/4 tsp saffron or its synthetic substitute
salt
handful green parsley leaves chopped
handful cilantro chopped
1 small white radish peeled - 1/2 diced, 1/2 sliced
2 red onion cut on strings
2 carrots without the hard part in the middle, cut into strips
1-2 large potatoes sliced on 1cm thick slices
4-5 handful green peas
1/2 large tomato peeled and diced
1 tsp meat broth powder
0,5 dcl olive oil
Side dish:
Authentic tools needed:
Comments