Banana curry
Cooking time: 8 min. / 22 min.Difficulty: easy
When I got a bowl of banana curry in front of me in India, I was not sure what to think. It didn't look very appealing and banana curry sounded pretty strange to me. But! The smell was amazing! So I gave it a go and believe me, it was something! Such a balanced combination of spices. You could have felt each of them separately and all together it made a perfect harmony. And when I got the secret recipe, I nearly started dancing around the table :)
Process
Halve bananas lenghtwise and cut on 1 cm pieces.
Heat oil, add cumin and let it fizz 3 minutes. Add onion, garlic, ginger, curry leaves and salt. Stir and after 2 minutes lower the heat, add bananas and the rest of spices. Stirfry 6 minutes. Add coconut milk and let it bubble 10 minutes uncovered on a small heat, until it gets thicker. If the sauce evaporates completely, add bit of water.
Serve with rice and other kinds of Indian curries.
To buy cardamon pods US, UK, Europe
, To buy curry leaves US, UK, Europe
, To buy a coconut scraper US, UK, Europe
, To buy Indian pan kadai US, UK, Europe
, To buy a rice cooker US, UK, Europe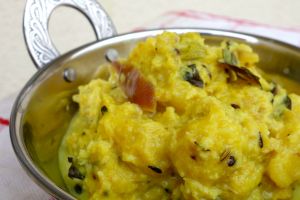 Ingredients
For 4 portions:
4 large fully ripe bananas
1 red onion fine chopped
1-2 cloves garlic crushed
2 cm fresh ginger crushed
10-15 curry leaves
1 tsp cumin seeds
1 tsp fennel seeds crushed
1-2 green cardamon pods crushed
1/2 tsp turmeric
piece of cinnamon stick
pinch of salt
1 cup homemade coconut milk, or 1 small can from shop + water added
1 tbs coconut or vegetable oil
Side dish:
Authentic tools needed:
coconut scraper
kadai pan
rice cooker
Comments