Aloo channa masala - Potato and chickpeas masala
Cooking time: 30 min. / 5 min.Difficulty: easy
On the suburb of Pushkar, picturesque town in Rajasthan in the North India, is a small restaurant, where I got this masala. It was amazing and even better thank to the fact the chapati served with it was made traditional way, in a clay tandoori oven.
Process
Boil chickpeas and potatoes in skin in advance.
Peel potatoes and dice.
Heat up oil in a pan and fry on a high heat potatoes, onion, chilies and tomatoes. Stir all the time. In less than 1 minute add turmeric, chili powder, salt, garlic ginger paste and coriander powder. Stir well. In one more minute add chickpeas and some water. Saute 3 more minutes uncovered.
Serve with rice and chapati.
Be ready that you have to prolong the time of cooking by a few minutes, unless you use fire like this back home ;)
To buy Indian pan kadai US, UK, Europe
, To buy a rice cooker US, UK, Europe
Video recipe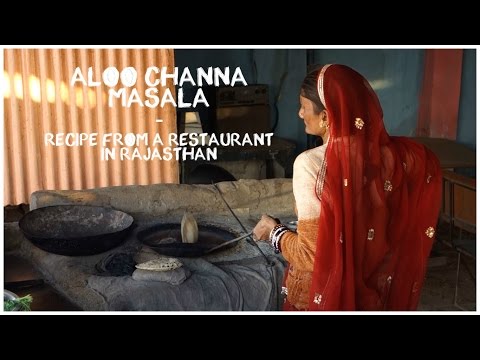 Video contains subtitles.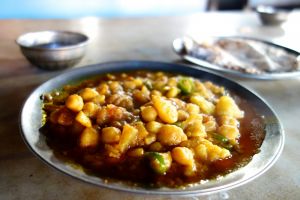 Ingredients
For 4 portions:
4 middle sized potatoes boiled in skin
4 handful chickpeas cooked
2 large tomatoes chopped
2 red onions fine chopped
3 cloves garlic crushed
1 cm fresh ginger crushed
1/2 tsp chili powder
1/2 tsp turmeric
1-2 tsp coriander powder
pinch of salt
2 tbs coconut or vegetable oil
Side dish:
rice or Indian bread, chapati, apam, dosha .......
Authentic tools needed:
Comments