My day with gipsies in Rajasthan
When I was approaching Pushkar by train, I saw so cool villages in the bush. Sheds made of grass and branches and loads of villagers dressed in beautiful colourful dresses. I was hoping I will be able to get there and see it all. And I was lucky, as usual ;)
As when I was walking in Pushkar, I met a guy playing a really cool traditional instrument. I loved it. I asked him, what it is, how to play it, bought a fruit juice to the guy and got invitation to see his village. Gipsy village in a dessert next day! I couldn't wait.
Next morning I am waiting for him at the time we agreed on. His name is Ram. I count with everything, even with the possibility he will not turn out at all. We are in India after all. On the other hand, I am so excited.
I am waiting 30 minutes, then I give up.
I leave slowly and sad to a tea shop to get a breakfast. Going back the same way and! He just arrived :) His friends, who he hadn`t seen 12 years, arrived. They walked whole day to his place and then they were talking till late so he overslept.
The village was something! I was afraid to have high expectations, but this was exactly what I saw from the train, the beautiful authentic village. Sheds made of grass and branches. Fire on the ground, beautiful tiny gipsy woman in a colorful dress. She had a veil, which she always pulled down, when a stranger entered the "house" or any man. And they were all super real gipsies. Messy hair, all dusty. Kids completely dirty, with snots.
They are picking dices themselves, pee behind the house, so I did too. They "bath" behind a wall made of grass or old clothes they found anywhere.
It was simply amazing when she was cooking. She was so beautifuly slow, secretly chewing tobacco, which she had hidden in her bra and winked at me archly. I had to laugh. She was laughing too. At me, that I blow my nose into a tissue. They use bare hands. She was beautifuly decorated. She processed the dough for chapati that it was smooth like a baby.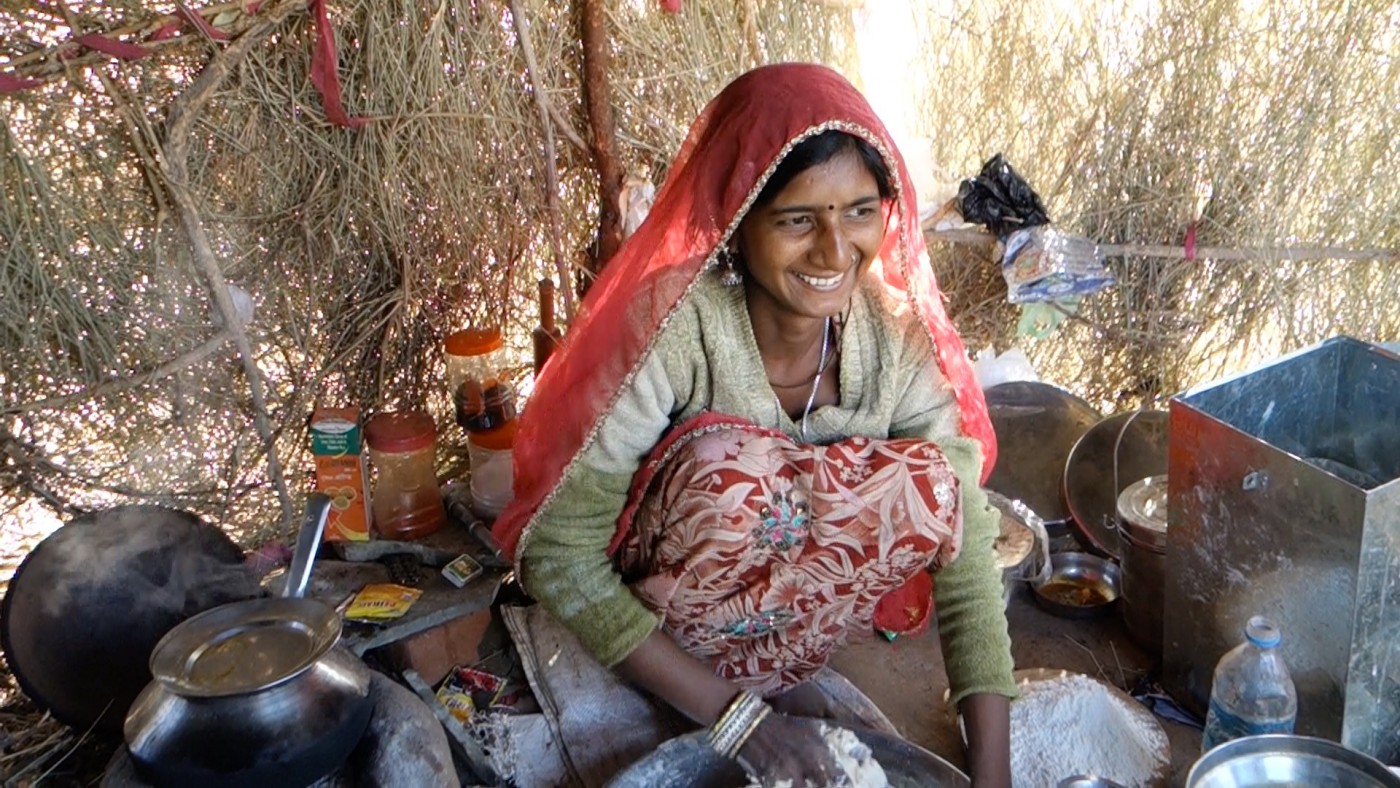 She was doing it by hands. She was digging her fists into the dough with the colorful rings on. They used loads of melted butter for chapati (ghee), and I was wondering how they get rid of the grease from the dishes. It is very simple. They use ash and sand from the desert. I tried this trick for my hands. It worked perfectly.
The dish she cooked was called "chamla". Black eye beans. They were ready very fast. Firstly as they were cooked on open fire, secondly black eye beans are always ready very fast compared to other beans. One even doesn`t have to soak them overnight. The cookig session was accompanied with cultural input. Ram played a musical instrument, ravanhattha, home made of bamboo, coconut, cow skin. He was playing really nice. He was trying to teach me something too, which was a great attraction for all.
Ram makes for living by playing. He was just getting ready to go and play in town. He put a small old mirror on the roof of the shed, started combing his hair and put a gel into it. He was creaming his face with whitening cream of course (like many people in SE Asia) and asked me if he was looking good. I said "of course, completely like a Brad Pitt". I mentioned such a popular celebrity on purpose, but he had never heard of him. I think he wouldn`t have known either if I mentioned some Bollywood star. In most poor sheds I have visited on my travels (Vietnam, Sri Lanka, Indonesia …), they had TV. Not here.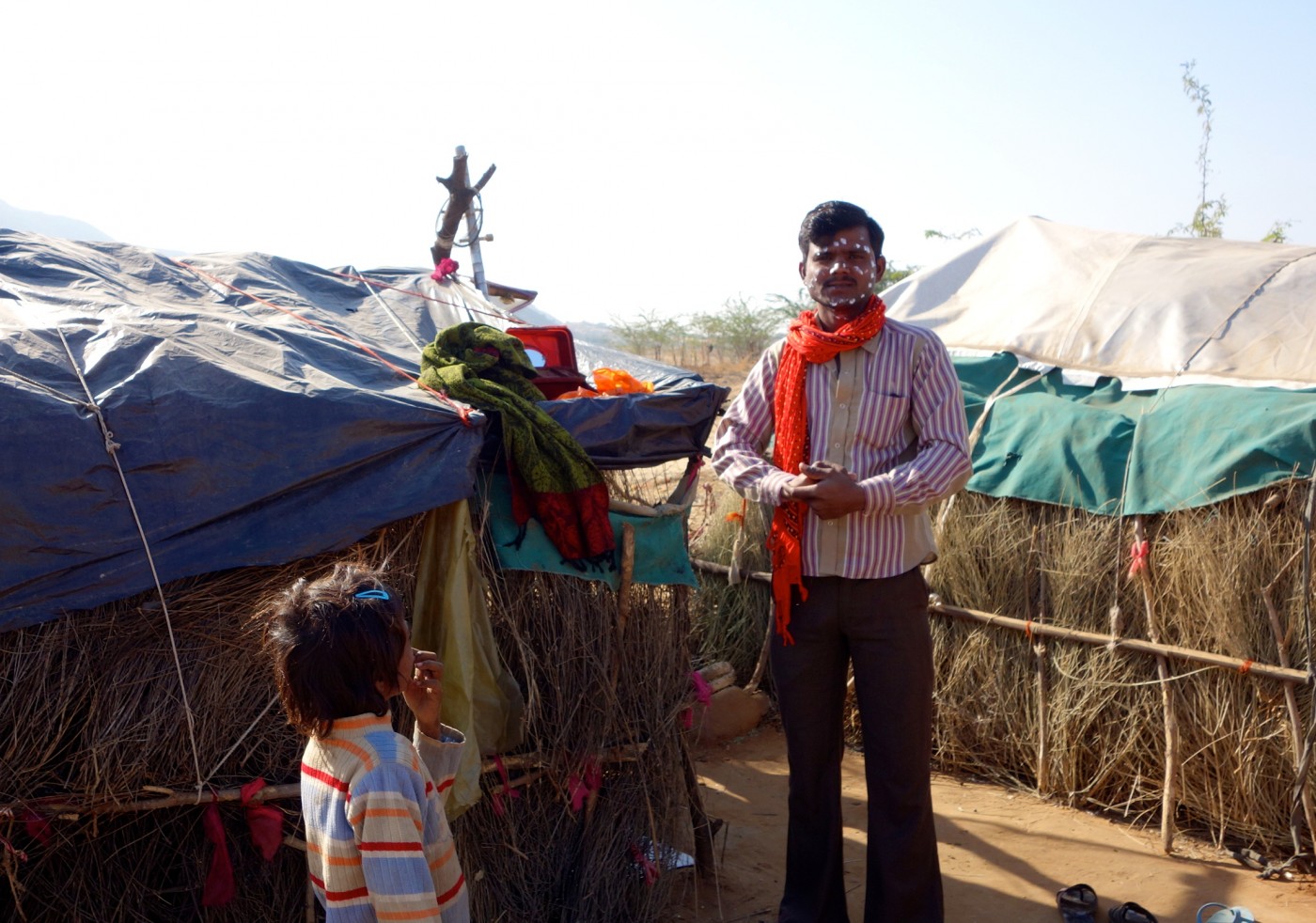 There were heaps of kids running behind the village with kites. There were training for a kite festival, which was supposed to start in a few days. There will be milions of colorful kites on the sky, music, special food … And the goal of the kiters is to cut off somebody elses kite with his kite. There is no prize, still, everybody can`t wait and they practice like crazy …
To buy related stuff from the article: ravanhattha US, Indian musical instruments US, Indian musical instruments Europe
, Indian jewelry US
, Indian jewelry Europe
, sarees US
, sarees Europe
, kites US
, kites Europe
About Bo on the road, the author