Keow Wan Gai - Chicken green curry
Cooking time: 10 min. / 15 min.Difficulty: easy
Thai green curry definitely belongs to my favourites. It is actually not green only because of the green curry paste, but because of the ingredients used as well. The cherry on top are the fresh Thai basil leaves. They bring this delicacy even to a higher level.
Process
Put eggplant into a pot. Pour in water, just as much, that the eggplant is submerged. Salt to taste.
Bring 1/4 of can of coconut milk mixed with green curry paste to a boil, stir and set aside.
Bring 1 can of coconut milk to a boil in a large pot, add chicken, chicken stock and palm sugar. Simmer 4 minutes. Add 2 dcl water, 1/3 can of coconut milk, green capsicum, onion and eggplant (without the water). In 2 minutes add the rest of coconut milk and fish sauce. Cook on a very mild heat 8 minutes.
Add Thai basil leaves, coconut milk with green curry, mix and serve.
Serve with rice.
Grow Thai eggplant yourself. To buy the seeds USA, UK, Europe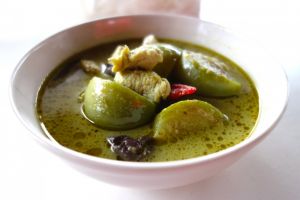 Ingredients
For 4 portions:
0,5 kg smal Thai green eggplant, without stem, cut on sixths
leaves from 8 Thai basil stems
0,5 kg chicken breasts skinned, cut on one bite pieces
1/2 middle sized onion cut on 1,5 cm pieces
1/4 green capsicum cut on 1,5 cm pieces
2 cans of coconut milk, 250 ml each
1 tbs green curry paste
2 chicken stock cubes
3 tbs palm sugar
2 tbs fish sauce
salt
Authentic tools needed:
Comments