Egg and plain hoppers - Bithara Aappe
Cooking time: 10 min. / 2 min.Difficulty: easy
One of the most original and tasty egg recipes I have ever tried. And it has its bowl too ;) Street food available in the streets of Sri Lanka usually after 3.30 pm.
Process
We make home made coconut milk from a fresh coconut and 3/4 l of water (process here) or use milk in can mixed with water to reach 3/4 l content. We mix about half of it with the rice flour and yeast and let rest for at least 30 mins. Then add the rest of the milk, salt and sugar, mix again, until we reach still runny but thick batter as well.
We coat small deep pan by a very tiny bit of oil, put on big fire. Then reduce the heat, pour a middle size soup laddle of the batter to the pan and spread around the walls as well and cover the pan. It is ready in about 1,5 min, when it starts to be brownish. So this is the plain hopper, which we serve with chilli sauce or leftovers from fish or meat curry.
To get an egg hopper, we put an egg in the middle of the pan just straight after spreading the batter. Break yolk and by making circles with the pan spread to the sides and cover. Then shake it again, add pepper and cover again. Entire process lasts less than 2 mins. Egg hoppers are served as they are or the same way like the plain ones.
For better understanding of the process we recommend to watch the video ;) .
To buy a hopper pan US, To buy rice flour US, UK, Europe
, To To buy a coconut scraper US, UK, Europe
, To buy a coconut milk US, UK, Europe
Video recipe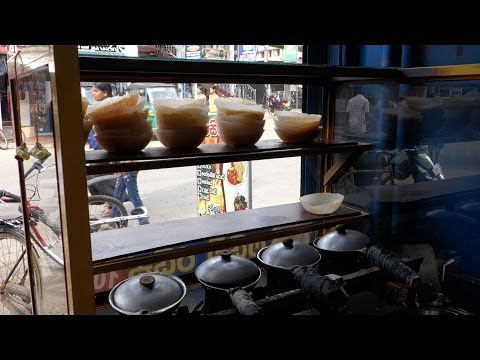 Video contains subtitles.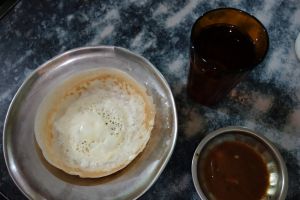 Ingredients
batter for about 20 pcs (= plain hopper):
1 kg of rice flour
3 eggs (and extra egg for each egg hopper)
coconut milk from 1 fresh coconut (750 ml) or 1 large can of coconut milk mixed with water to reach 3/4 l amount
1 tsp yeast
4 tsp salt
5 tsp sugar
bit of vegetable oil for the pan (e.g. coconut oil)
pepper (for egg hopper)
Dip:
Authentic tools needed:

Comments