Baby jackfruit curry - Polos
Cooking time: 40 min. / 40 min.Difficulty: medium
Jackfruit is a fascinating fruit. Not only because of its size, but it is used completely different way in each stage of its ripeness. If it is of a size about 15-20 cm, it is called baby jack (or green jackfruit). It is used as a vegetable and has a sour taste. The curry made of it is called polos and is a bit sour too, but very nicely sour.
Process
Peel jackfruit, remove hard part from the middle and dice.
Roast chili powder, unroasted curry, curry leaves and pandan leaves on a dry pan on a small heat. Remove from stove.
Roast separately rice and then roast separately coconut. Both on a dry pan, till golden brown and crunchy.
Put jackfruit into a pot, add roasted mix of spices (chili, curry, curry leaves, pandan leaves), add tumeric, unroasted curry, green chilies, fenugreek, black pepper, c pandan leaves, cinnamon and salt to taste. Add 1 cup of water and mix properly. Put onions and tomatoes on top and put on fire. Cook 10 minutes uncovered.
Cover with lid and cook about 15 minutes and then another 15 minutes uncovered.
Meanwhile crush garlic, curry leaves, roasted coconut and rice with a bit of water into a paste in a mortar or a blender. Mix the paste with about 1/2 liter of water.
Pour this mix together with coconut milk into the pot with jackfruit. Stir well and cook 10 more minutes uncovered till the jackfruit is soft, but still a bit crunchy.
Serve with rice and other Sri Lankan curries.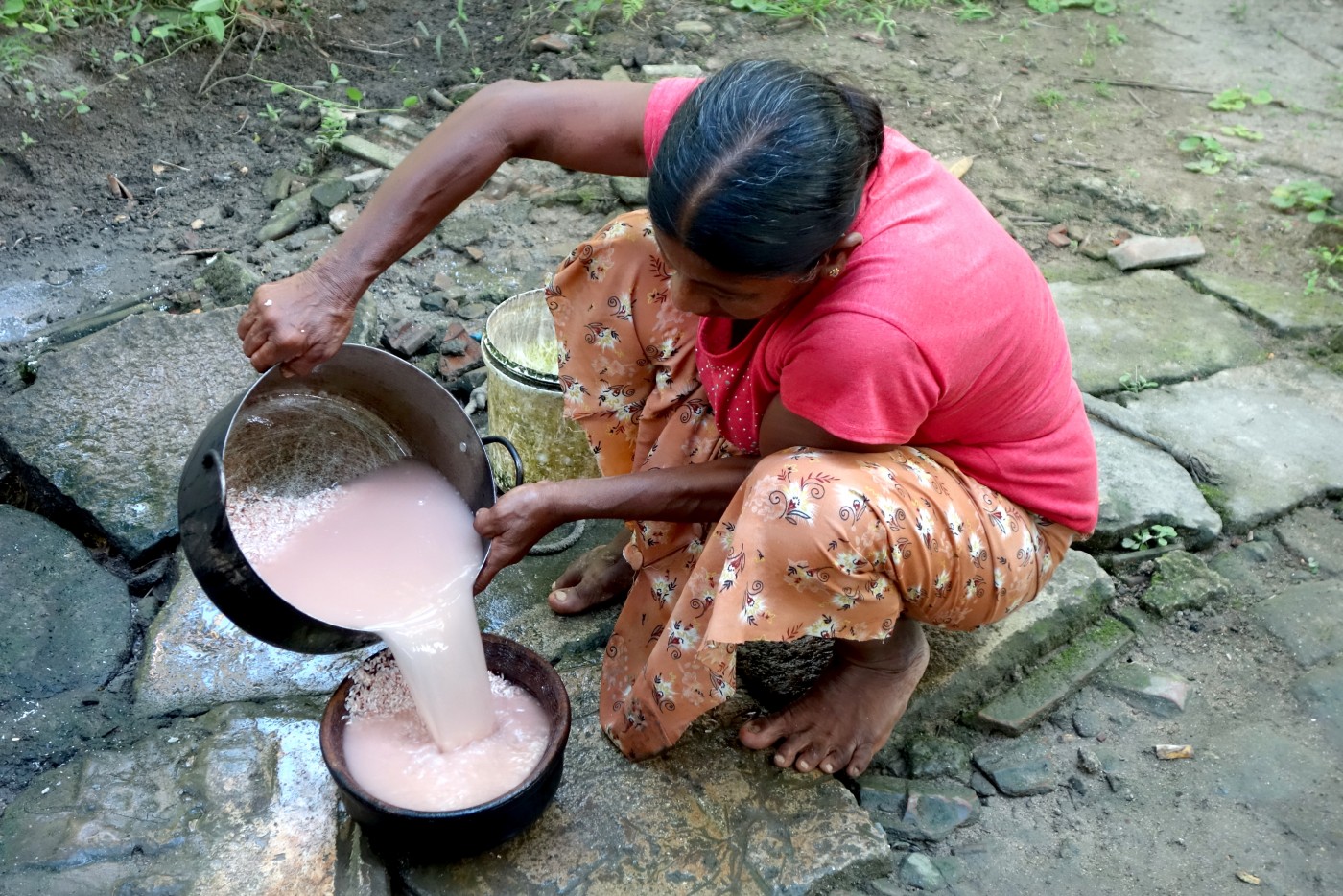 Video recipe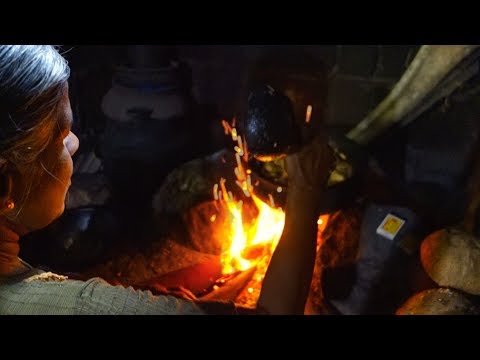 Video contains subtitles.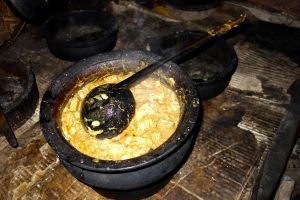 Ingredients
For 6 portions:
8 curry leaves
2 pandan leaves (optional)
1 tsp chili powder
2 tsp unroasted curry
1 baby jackfruit (green jackfruit)
2 green chilies
1 red onion chopped
2 small tomatoes cut on eights
1/2 tsp turmeric powder
1/2 fenugreek seeds
1 tsp unroasted curry
1/2 tsp black pepper powder
2 pandan leaves (optional)
8 curry leaves
3 cm cinnamon stick
salt
1 cup water
coconut milk from a half of a fresh coconut or a small can mixed with water reaching 0,3l volume
handful fresh grated coconut (or a dried one mixed with a bit of water)
handful dry (uncooked) rice
7 cloves garlic
8 curry leaves
1 and 1/2 or 2 cups water
Side dish:
Authentic tools needed:
clay pot
coconut scraper
mortar
Comments