Authentic Moroccan couscous with beef and vegetables
Cooking time: 25 min. / 2 hod.Difficulty: easy
In our fast moving world it is quite hard to imagine preparing real couscous as they do in North Africa. The real one takes a few hours to prepare. Couscous in Morocco is a festive dish served on Friday. One of the reasons for long preparation is a slow cooked meat (usually beef or lamb). The second, most important one is slow moisturising of dry couscous by hands and then slow steaming above meat and vegetables in a special pot called couscoussier. Thanks to this slow process the couscous is well done, filled with smell of meat and vegetables and nicely loose.
Process
Heat up oil in the bottom part of couscoussier and fry onion and meat. Salt to taste, stir and in a few minutes cover and saute 15 minutes.
Add cumin, black pepper, saffron or turmeric, paprika, mix, cover and saute 10 minutes.
Add 2 litres of water, cover and simmer 1 hour.
Meanwhile moisturize the couscous. In Morocco they use huge ceramic plates. The undecorated one for moisturizing, the decorated one for serving. Spread dry couscous on the plate, take some water into your palm and sprinkle the couscous. Then mix the couscous with hands and rub lumps with your fingers if there are any to keep the couscous separated. Repeat 3 times. Couscous is growing step by step. Altogether it requires about one cup of water. Put couscous at the top part of couscoussier gently, do not press it, keep it airy.
After the meat has been cooked 1 hour, add all vegetable except tomato and pumpkin into the pot. Put the top couscoussier part with couscous on it, cover and let steam about 15 minutes.
Take off the top part, pour the couscous to the ceramic plate and let cool down a bit. Add 3 tbs olive oll, little bit of water, mix with hands and rub lumps with your fingers if there are any. Put back into couscoussier and let it steam another 15 minutes.
Take off again, spread the couscous on the preparation plate, let it cool down and add salt, 1 tbs of olive oil, 1 tsp of cumin and black pepper. Again, mix with hands and rub lumps with your fingers if there are any.
Add cilantro, parsly, green chili, tomato and pumpkin to the meat, put the top part with couscous back on and steam last 15 minutes or till the pumpkin is soft.
Serve on a huge plate, where you spread all the couscous, create a hole in the middle, put in the meat, cover nicely with vegetables and pour over the sauce.
Put in the middle of table. Eat by hands or a table spoon and drink together with laban, which is something like a butter milk.
Buy couscoussier US, UK, Europe, Moroccan beautiful serving plates US, UK, Europe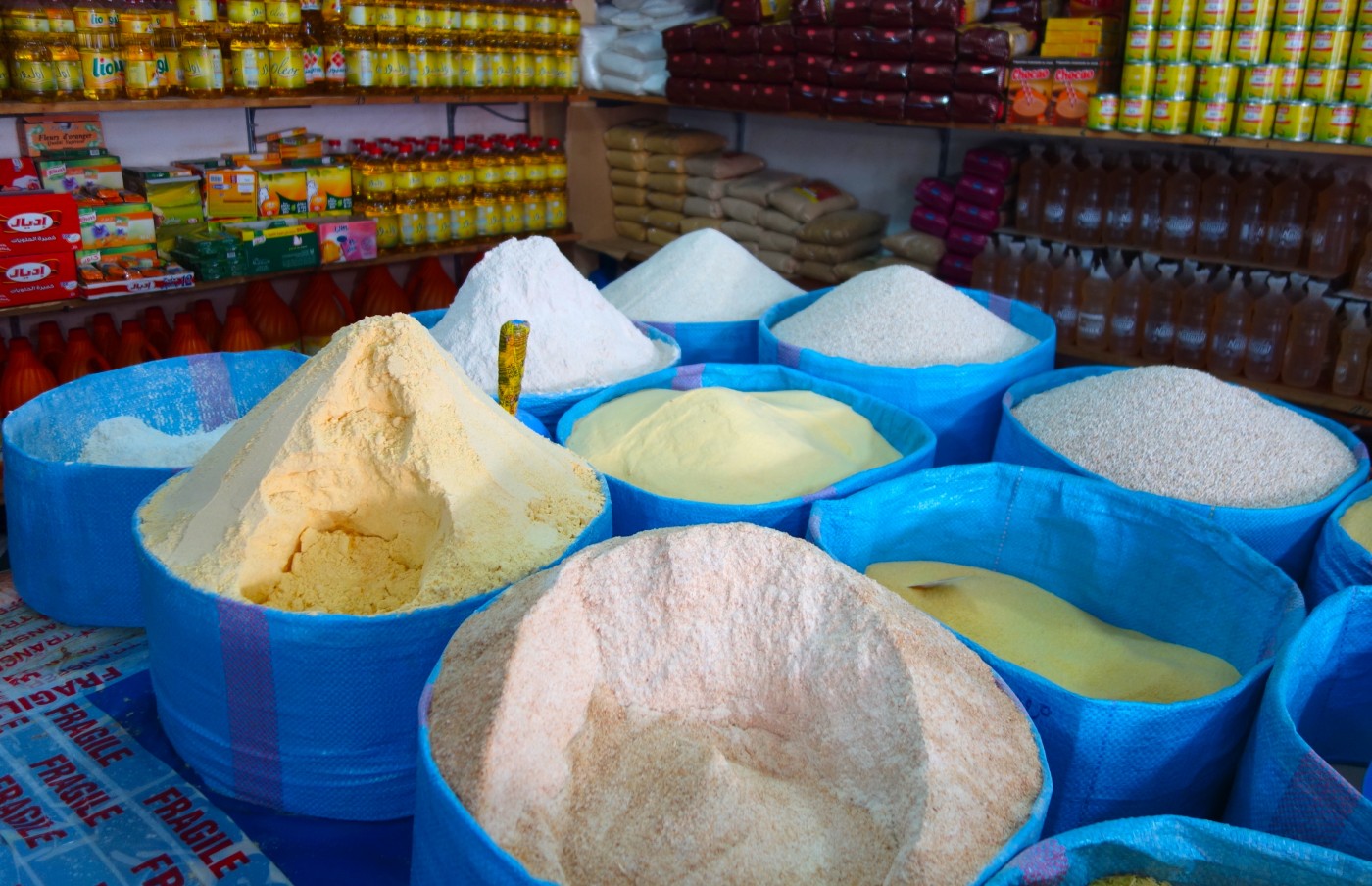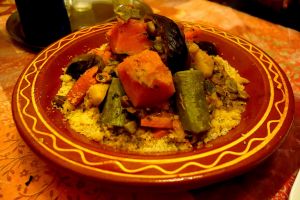 Ingredients
For 8-10 portions:
For couscous:
1 kg dry couscous
4 tbs virgine olive oil
salt
pinch of ground black pepper
1 tsp ground cumin
couscoussier = double chambered steamer; the bottom part is for meat and vegetables, top is for steaming couscous
For meat and vegetable mix:
1 kg beef cut on pieces
2 carrots cut on longitudinal quarters, hard midsts removed
1 courgette halved
2 small aubergines cut on longitudinal qarters and peeled just partly (stripes)
1 handful shelled large green beans
6 pcs turnips peeled and halved
1 green bell pepper cut on stripes
1 onion sliced
1 tomato chopped
1/4 small pumpkin unpeeled hollowed out
1 tsp ground red paprika
1,5 tsp ground black pepper
1,5 tsp ground cumin
0,5 tsp ground saffron or turmeric
oil
salt
handful green parsley chopped
handful cilantro chopped
1 green chili
Authentic tools needed:
Comments