Tempeh tofu veggie curry - Santan sayur tempe
Cooking time: 15 min. / 20 min.Difficulty: easy
This amazing Indonesian curry I learned in a street restaurant on Lombok island. Except for the very interesting cooking as usual, may be more interesting was watching the couple which owned the restaurant with a little shop. The woman managed to cook a few delicious dishes, get, carry and store all good from several suppliers and her husband was hanging around coloring his hair.....
Process
Prepare homemade coconut milk. In Indonesia they prepare it this way: They put the white coconut meat into a blender and blend with some water. Then strain and wring the grated coconut. Then mix with some water again (this time not in a blender any more), strain into a pot and wring and repeat 2-3 times. Like this they have about 1-1,5 l of very runny coconut milk.
Crush chilies, turmeric, salt and MSG in a mortar or in a blender into a paste. Add shallots, garlic and prawn paste and crush too.
Add the mix into coconut milk.
Deepfry tofu sliced on 1 cm slices till goldenbrown. Drain and set aside. The same with tempeh.
Crack tamarind husk, take out the pulp and by mashing it in your palm with a bit of coconut milk separate the pulp and the seeds and thick fibers. Add pulp into the pot with coconut milk and crushed spices mixture.
Bring the coconut milk to a boil. Add bocca, water spinach, beans and meat broth powder and cook 8 minutes.
Add fried tofu and tempeh and let it warm up about 2 minutes.
Serve with rice.
To buy wok pan US, UK, Europe
, rice cooker US, UK, Europe
Video recipe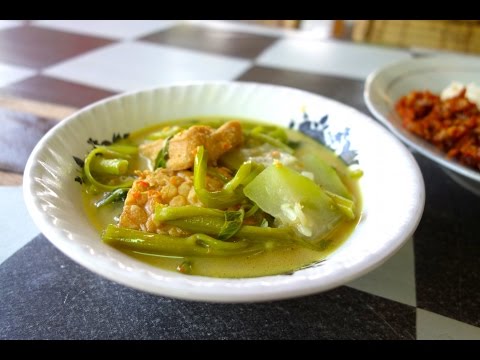 Video contains subtitles.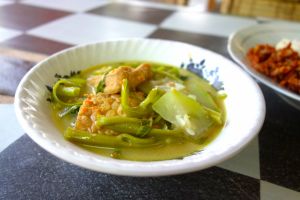 Ingredients
For 4 portions:
150g tofu
150g tempeh
1/2 bocca (sort of a large cucumber) or 1 courgette - peeled and diced
2 handful water spinach (kang kung) - cut on 10 cm pieces long stalks with leaves (just the yound stalks and nice leaves)
2 handful green beans - cut on 3-4 cm long pieces
1 red chilli (very hot one), or 12 just a little spicy Indonesian ones
5 red shallots
5 garlic cloves
1 cm fresh turmeric
1/2 tsp prawn paste
1 tsp salt
1/2 tsp MSG (optional)
meat broth powder
1 tamarind husk or 1 tsp tamarind paste
coconut milk from 1/2 fresh coconut or 1,5 dcl canned coconut milk - in both cases diluted to 1l volume (or more)
oil
Side dish:
Authentic tools needed:
Comments