Vegetarian biryani with pineapple
Cooking time: 15 min. / 20 min.Difficulty: easy
I met a couple who owned a hidden small restaurant somewhere in a palm tree wood. They taught me a few fantastic recipes, this vegetarian pineapple biryani included. It is important to use basmati rice and if you have a pineapple extract too, it will bring the dish to a higher level. Still, it is yummy without it as well ;)
Process
Rinse rice in cold water to remove starch and cook in salted water. Do not cook it completely, just that is ready from about 4/5. Good thing is to use rice cooked from the day before.
Meanwhile cook vegetable till soft in salted water. Start with carrot, then add potatoes and beans. When it is soft, set aside. Do not pour the water out.
Heat up 1-2 tbs ghee in a kadai pan, add green chilies, ginger and garlic. Stir and in about 1 minute add 2/3 of onion.
When it gets glassy, add turmeric, coriander, chili powder, cooked vegetable with the water too and tomatoes. Stir constantly and fry about 3 minutes. Set aside.
Heat up 1-2 tbs ghee in a kadai pan again, add cashews, cinnamon and raisins. Fry about 1 minute and add the rest of onion. Stir all the time.
When the onion gets soft, add pineapple, turmeric for nice yellowish color. Stir in cooked rice and a few drops of pineapple essence. Warm up a few minutes, stir all the time. When it is warm, make sure the rice is well done, remove from stove and serve.
Serve the way you create a circle of the rice in the middle of a plate, then put heap of the vegetable mix in the middle and cover with more rice. Shape into a nice heap.
To buy coriander powder US, UK, Europe
, Indian crockery US, UK, Europe
, Indian pan kadai US, UK, Europe
, rice cooker US, UK, Europe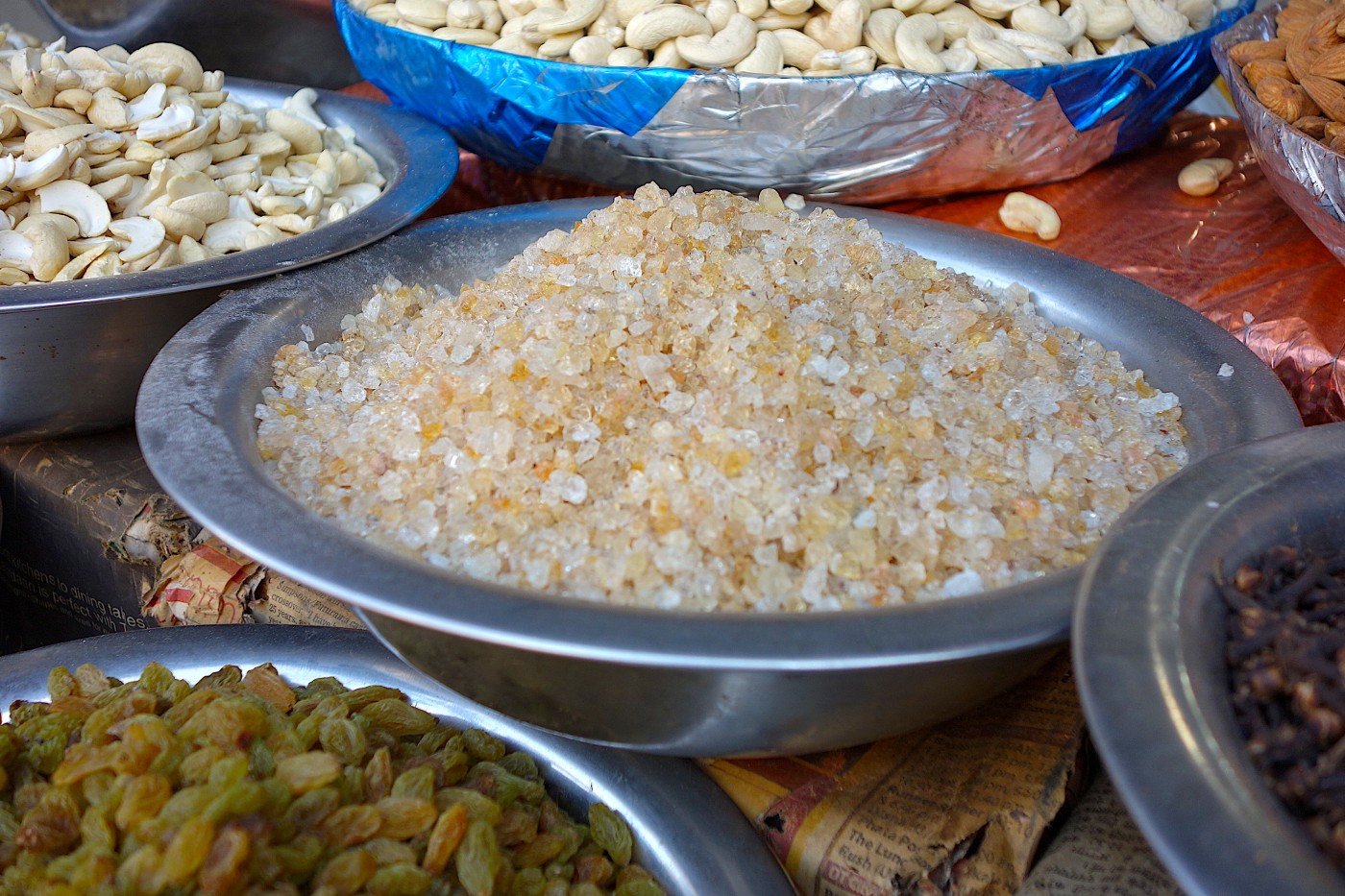 Ingredients
For 4 portions:
0,5 kg basmati rice
2 middle size carrots sliced
3 handful green beans cut on 2 cm pieces
1 large potato diced
2-3 large red onions cut on strings
3-4 garlic cloves chopped
2-3 green chilies sliced
2 cm fresh ginger chopped
pinch of turmeric
1 tsp coriander powder
salt
1/2 tsp chili powder
2 tomatos cut on 1/8s
3-4 handful pineapple peeled and cut on small pieces
small handful raisins
1/2-1 handful cashew nuts
5 cm cinnamon stick torn on small pieces
few drops of pineapple essence
2-3 tbs ghee
Authentic tools needed:
Comments