Beef biryani
Cooking time: 30 min. / 1 hod. 30 min.Difficulty: easy
This beef biryani I have learnt in one muslim village in Kerala, India. When you moved out of the village for just a few kilometers, cows were sacred there because of hinduism.
Process
Put beef into a pot with turmeric, submerge in water and cook till soft, about 1 hour. If the water evaporates, add some more. To make the process faster, it is good to use a pressure cooker.
Rinse rice and cook in salted water. Do not cook it completely, just that it is ready from about 4/5.
Heat up oil in a kadai pan, add green chilies and onion.
When the onion is golden brown, add tomatoes, turmeric, meat curry mix, chili powder, coriander powder, garam masala, garlic, ginger and salt to taste.
In about 3 minutes add beef and warm up. Set aside.
Heat up ghee in a kadai pan. Add bay leaf, anise and coriander seeds. In about 1 minute add green cardamon seeds. In one more minute add cashew and raisins. In 1 more minute stir in 1/4 tsp turmeric and rice. Mix well. When the rice is well done, it is ready.
Serve with rice at the bottom of a plate with the beef on top. Or you can cover the beef with another layer of rice and create a nice heap.
To buy coriander powder US, UK, Europe
, Indian crockery US, UK, Europe
, Indian pan kadai US, UK, Europe
, rice cooker US, UK, Europe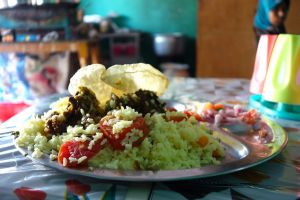 Ingredients
For 4 portions:
1/2 kg beef diced
1/2 tsp turmeric powder
For the gravy:
2 large red onions cut on strings
1-2 green chilies sliced
3-4 cloves garlic crushed
2 cm fresh ginger crushed
1/2 tsp turmeric powder
1/2 tsp chili powder
1 tsp coriander powder
2 tsp meat curry mix
1 tsp garam masala
2 small tomatoes cut on 1/8s
2 tbs oil
For biryani rice:
1/2 kg basmati rice
2-3 bay leaves
2 tsp anise
1 coriander seeds
10 green cardamon pods
2 tbs cashew nuts
1 tbs raisins
1/4 turmeric powder
1-2 tbs ghee
Authentic tools needed:
Comments